The answer to this question may seem obvious to those who have been involved with this event for several years, but it really is not that clear to the casual observer or would-be participant. Last year was our first year with Seattle Beer Week, and we struggled working out what it all meant and really wished someone had put together a guide or FAQ to help us navigate through the confusion that we encountered.  Our goal with this brief article is to get some questions answered up front for the ever-growing group of people who are curious about participating in this event.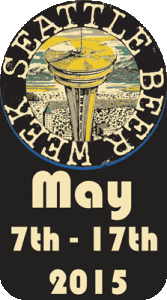 What is Seattle Beer Week? In the simplest of terms, Seattle Beer Week is a celebration of fermentation that takes place each year early in May consisting of a loose confederation of events held at bars, restaurants, breweries and taprooms across the greater Seattle area.  These events include beer and food pairing dinners, opportunities to meet some of the people behind your favorite brews, brewery-based or themed tap takeovers, various specials on pints and growlers, and much more.
Where do I buy passes for Seattle Beer Week? You don't! Unlike a beer festival, which generally requires one to purchase an event pass, a tasting glass or a pile of drink tokens, Seattle Beer Week requires none of these things. If you can get to the Seattle area during Seattle Beer Week, you have license to participate!
Is it only about beer?  The focus of Seattle Beer Week is primarily on beer, but there are several events geared towards cider fans as well.  I think we can thank the recent surge in popularity of ciders for this, and we welcome this addition.
How long does Seattle Beer Week last?  This answer seems obvious, but it isn't simply a normal week.  It actually runs for eleven days.  There is just way too much awesomeness to cram into seven days, so just like a baker's dozen is thirteen, a beer week is eleven.
The Events page is overwhelming.  How do I decide what to do?  Our first bit of advice here is to take a deep breath and try to remind yourself that "too many options are better than not enough options". What Janette did was export the whole list of events into Excel and searched for breweries/locations/events that looked interesting.  She further narrowed it down to times that work with our schedules (stupid jobs…getting in the way of beer).  At that point, the list became much more manageable for us.  Another piece of advice is to revisit the Events page to look for changes or additions.  The SBW folks will keep updating a day's events right up to that day, and sometimes something you weren't expecting will suddenly appear.
With eleven straight days of events, how do I avoid breaking the bank participating?   Aside from moderation (which doesn't sound fun, but is definitely smart), our best piece of advice is to go with friends. Seattle Beer Week is meant to be a social event, and going with friends (at least with friends you wouldn't mind sharing a glass with) means smaller bills and more beer samples for everyone.  Speaking of samples, take advantage of taster glasses where available; you don't need a pint of every beer, and smaller glasses also equate to smaller bills.  Also, don't try to do it all.  Just enjoy the events that interest you the most.  For a detailed set of suggested events, check out the article Seattle Beer Week #7 on a Budget by our friend the Craft Beer Monger.
So, even though Seattle Beer Week isn't just in Seattle, isn't just about beer, and isn't a week long, it is definitely a great reason to spend portions of the next eleven days celebrating the art of fermentation in and around Seattle.  So now that you know what it is (and isn't), you have no excuse not to get out there and start making the most of Seattle Beer Week.  Stay safe and enjoy!