We start Seattle Beer Week at Beveridge Place Pub, where the event features cask brews from Seattle breweries.
For those who may be unfamiliar with the term, cask-conditioned beers are unfiltered, usually have less carbonation, and are traditionally served a little warmer than standard kegged beer. Done right, and served correctly, this can result in softer, more complex flavors.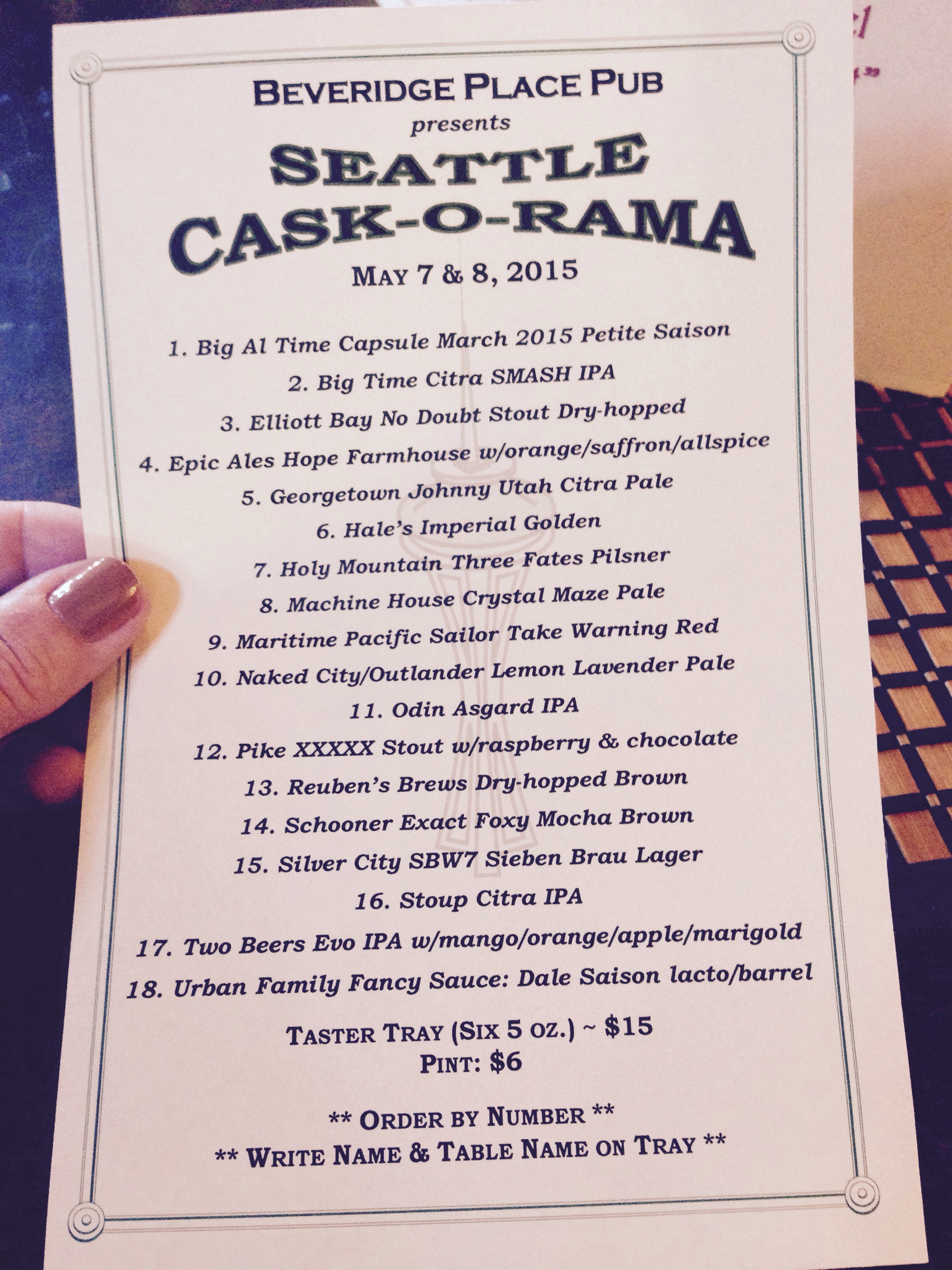 We started with a list of 18 beers. They gave us a tray with liner to fill out with our name and table with our six picks. We handed it in, and waited for it to be delivered to our table.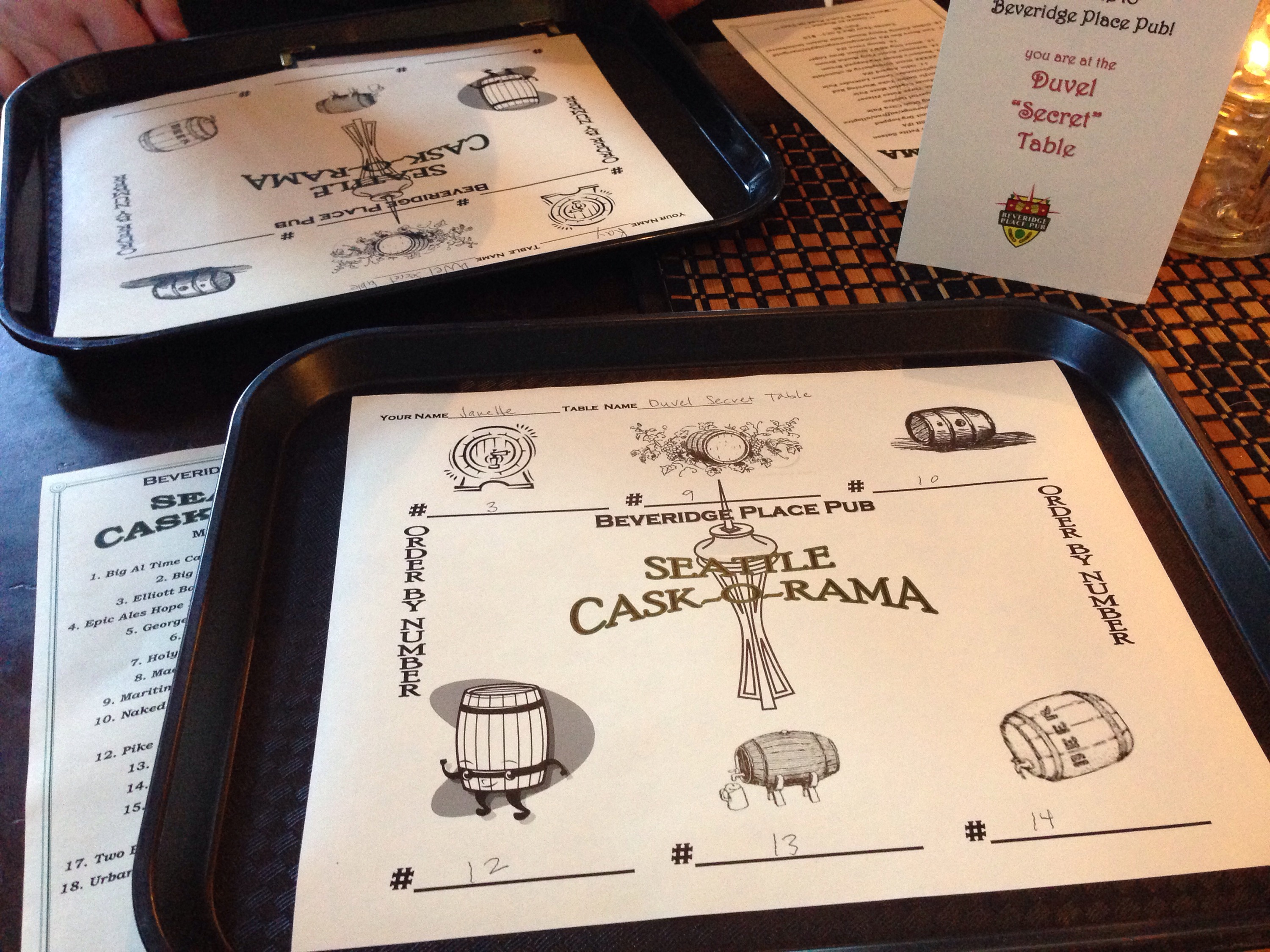 My Favorites:
Elliot Bay No Doubt Stout Dry-hopped: it smells like the very best kind of mocha. Lovely stout with a slightly bitter (in a good way!) hop finish.
Naked City/Outlander Lemon Lavender Pale: heavy on the lavender, with a bit of lemon taste. I have a great fondness for lavender, so I really enjoyed the spicy taste of this. (Ray interjects: I like lavender, too, but this would make a better potpourri than a beverage. Put a tea light candle underneath it and let the scent fill the room.)
Pike XXXXX Stout w/raspberry & chocolate: three tastes right up my alley! Mmmm… raspberry in the middle of my tongue with this one, can taste the chocolate at the end. And as it warmed up, it got a bit more sweet and tangy. Really like it!
Epic Ales Hope Farmhouse w/orange/saffron/allspice: we both agreed that we liked this one. I like how the allspice flavor enhanced that farmhouse taste. If you like farmhouse ales, you'll probably like this one.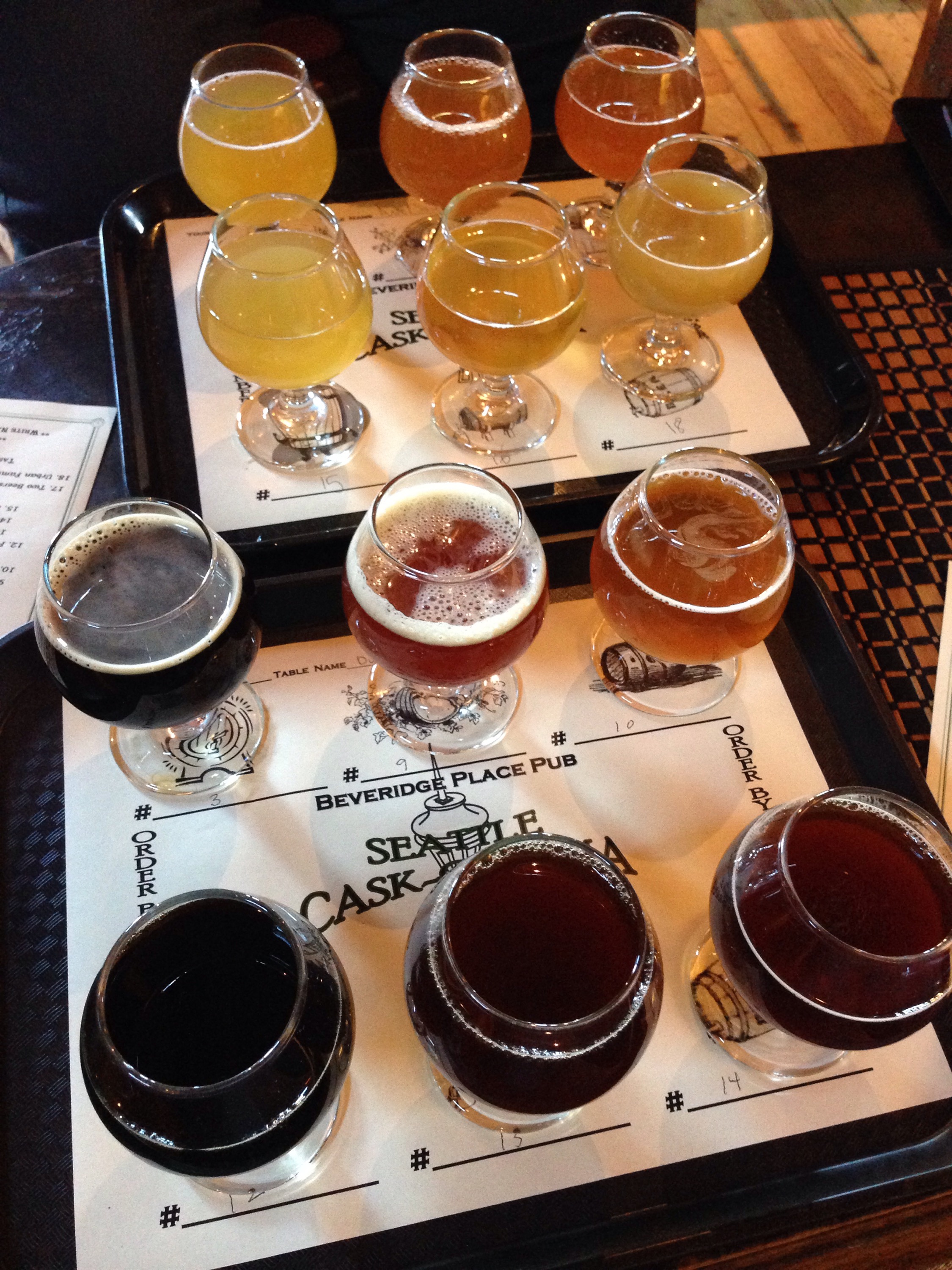 Ray's Favorites:
I've clearly been spoiled by the British style cask offerings at Machine House Brewery, because I went into this event with high expectations and walked out questioning whether or not I like cask beer.  I mean, I obviously cannot be a fan if my top three opinions tonight were "tasty", "not too bad", and "least offensive of the remaining ten", right?  Anyway, it seemed clear to me that several of these were poor choices to be served on cask.  I'm not going to out the one I liked least, but I will say that it was an egregious example of "unfortunate casking" that tasted very similar to how the cow barn at the Puyallup Fair smells.  I hear it is good cold and carbonated, but I am officially too scared to try it now.
I also must give sincere credit to Epic Ales for their Hope Farmhouse offering.  It was delicious, complex and quite literally the only beer I sampled that I would like to have again.  It wasn't even close for me, as none of the others seemed close to being on par with it. To be fair, we did not have any of the IPA offerings, so there may have been some gems in the remaining six brews we did not try.
Conclusion:
Even though our experiences at Cask-O-Rama were mixed, we always have a great time at Beveridge Place.  There really is no better place to kick off Seattle Beer Week.