We first visited Blue Lightning Brew back in February during Washington Beer Open House. We were impressed with the beers (and their clever names), the knowledgeable staff, and the passion of the brewer that gave us the tour.
I was stoked when I saw that they were participating in Seattle Beer Week. A great reason to check in again. Blue Lightning was offering Happy Hour prices all day, as well as a chance to win prizes (including a Mug Club membership!)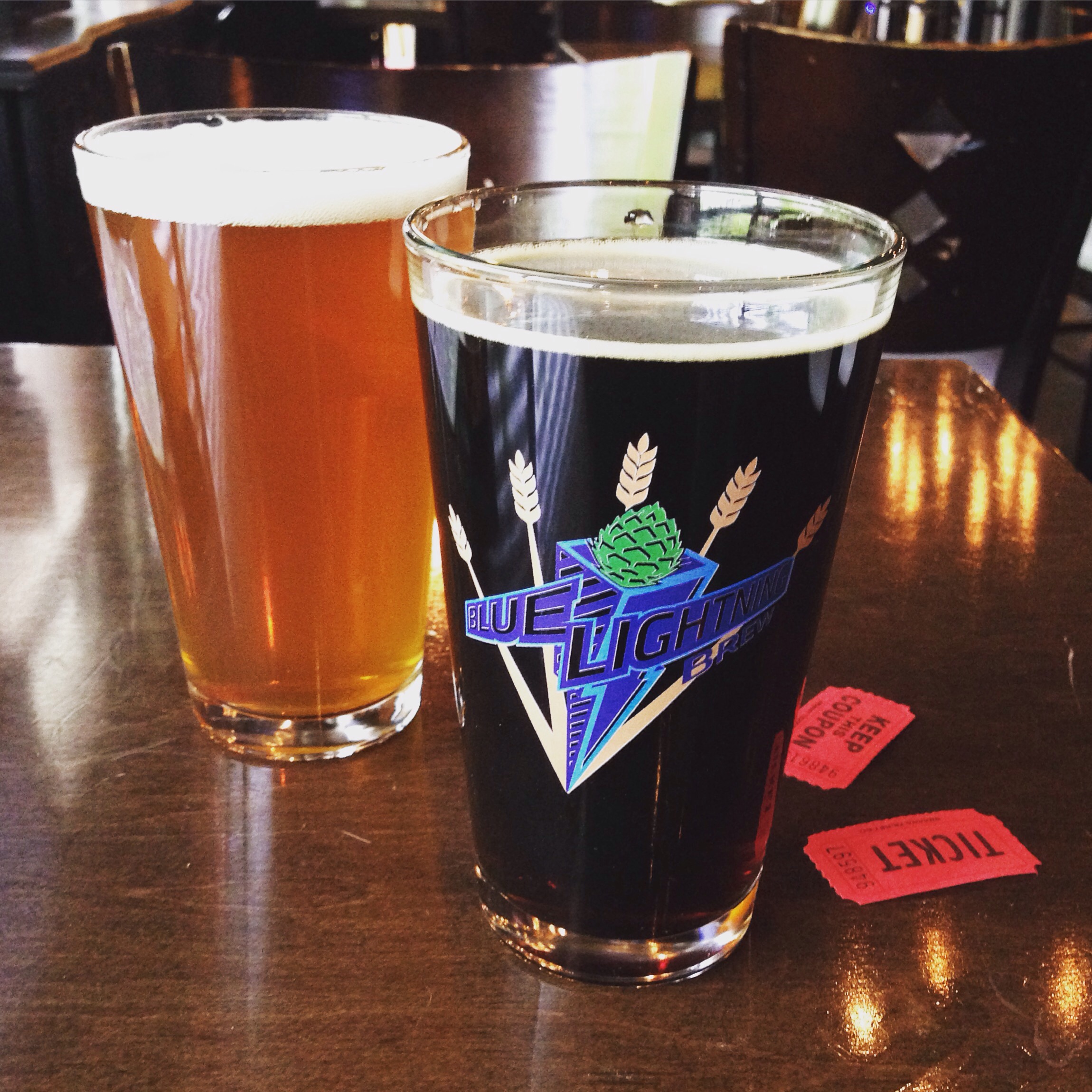 Weizenbock Winter Warmer – described as "Christmas in a glass", this 7.2% ABV Belgian has full flavor with fruit and spice notes without being overwhelming. (Ray: Missed this one…too busy downing my Wookieweizen!)
Wookieweizen – an unusual peach and citrus Hefeweizen style weighing in at 4.5% ABV. (Ray: I had two of these…yum!)
Just the Tip – an India Session Ale, 4.7% ABV, that's light but still has the IPA taste. (Ray: As is the case when just the tip is involved, this isn't as satisfying as I would like. Tasty up front, but finishes a little watery for me.)
Double Ott Stout – 6.8% ABV (Ray: This one is a delicious mystery. How can a stout taste so light and refreshing, yet still be true to the style with rich, roasted malt flavor? Janette doesn't taste it, but this nearly registers "citrus" at the very end.)
Horny Blonde – 4.5% ABV  (Ray: Light and refreshing. Like the Wookieweizen, this is another great Summer beer I could throw down all day.)
Dark Persuasion – and last of the beers we had today (but certainly not least)… Blue Lightning has a very special guest tap from Icicle Brewing. This is one of the most amazing chocolate coconut (aka German Chocolate Cake) ales that I've ever had. Well worth a trip to Woodinville to Blue Lightning to try this on tap. Much closer than driving out to Leavenworth for a pint (although, we have made a trip for this beer before!)
A relaxing afternoon was spent in their tap room. We admire their dedication to full pint glasses for all beers (as opposed to those girly tulip glasses). And if you have friends that don't appreciate beers, they're also in the same space as Vessel wines, so there's a lot of variety to be had.
Ray's Views:
This brewery makes me wish I lived closer to Woodinville, if for no other reason other than the purely juvenile experience of being able to order up a "Horny Blonde" or telling the bartender you would like to try "Just the Tip" again.  Pair that with some great beers, a comfortable and friendly atmosphere, a complete absence of tulip glasses, and one of the best taproom bathrooms in the greater Seattle area, and you have a great place to enjoy some beers.