I really like the bottle. In fact, I think I LOVE the bottle. I cleaned it out and have it in my home office on a shelf (right next to my Ommegang GOT bottle).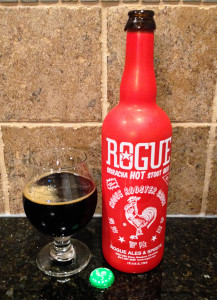 We'd read some bad reviews about this beer, so were hesitant to try it (let alone pay $15 for a 22 oz bottle!) But, we have a mutual love of sriracha sauce, and a love of stouts…so Ray picked up a bottle for us to try.
My final say is that I like it. It's a nice stout, with not very much heat. It does not really have the very spicy "sriracha" hot sauce taste, but it's a very nice, serviceable, chili stout. I don't think I'd buy it again, as there are many other stouts that I like, but I was glad that I tried it. And now I have a nice display bottle.
Ray's View:
Like most "novelty" beers (or at least "beers with a hook"), this one didn't impress me much. To be clear, however, it was not a bad beer. It was merely one that I could not imagine drinking again due to a combination of high price and having a hard time deciding if I liked it or not. It isn't overly hot, so the underlying stout flavor readily pokes through, but that didn't do much for me either.
Like Janette noted, the bottle is cool.