I love when home brewers open a brewery/tasting room, and more importantly, when they have good beer! I admire the dedication it takes to work full-time at other jobs and still have the energy to share your love of beer. One such example of this is Whitewall Brewing.
We stopped by Whitewall Brewing on our way up to LaConner recently. We weren't expecting much…maybe a stamp in our WABL passport, but we found much more.
Whitewall is a new brewery in Marysville, having opened in March, 2014. The brewers were in a home brewing club, The Stilly Mashers, before opening up their own brewery. The Whitewall name came from putting together their names – Aaron Wight and Sean Wallner.
The outside looks industrial, but inside was very welcoming.
As the night progressed, more and more people came in. There was even a surprise birthday party taking place! It seems like a real neighborhood hangout.
We had the pleasure of talking to Lori, who helped us with our beer selections. She had a lot of information on the beers, being married to one of the brewers.
Lori mentioned that they were looking for a new logo…we suggested that they were "On a Roll…" since we were so enamoured with their selection of brews.
Ray was also fascinated by their bar made of pennies (being a penny collector), but he was even more impressed by their beers.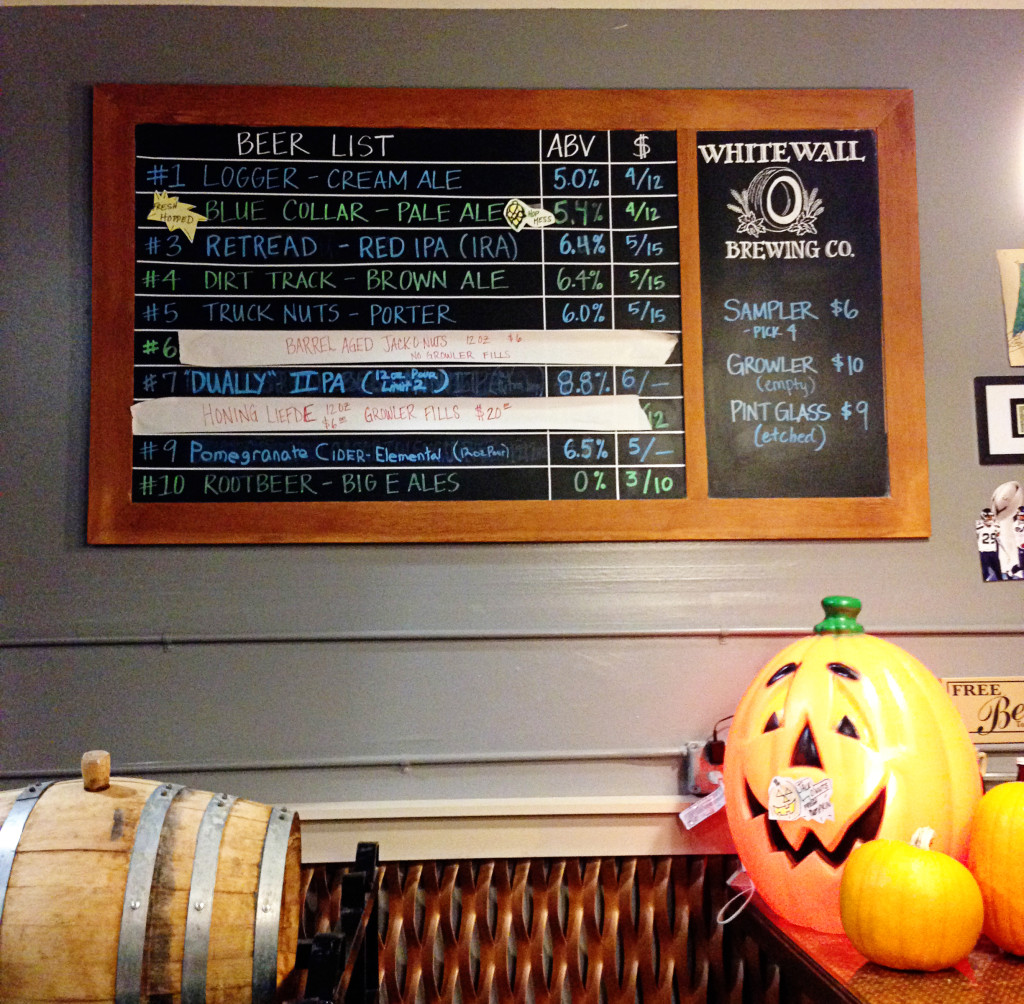 We tried:
Blue Collar – a smooth, hoppy ale
Retread Red IPA (Imperial Red Ale) – very smooth
Dirt Track – brown ale. I found it had a lighter taste, and the alcohol taste seemed to separate. As if you could taste the brown ale and then the alcohol finish.
Truck Nuts – great porter taste, but a bit light tasting too.
Barrel Aged Jack-O-Nuts – Whitewall made a pumpkin beer (Jack-O-Nuts), and it quickly sold out. They offered the barrel aged later, and it was amazing! One of my favorite pumpkin beers this year. We need to make a point to check out their pumpkin ale next year before it sells out!
Incidentally…we had a taster of the Barrel Aged Jack-O-Nuts, then ordered a glass. We had the very last of the barrel, as we killed the keg!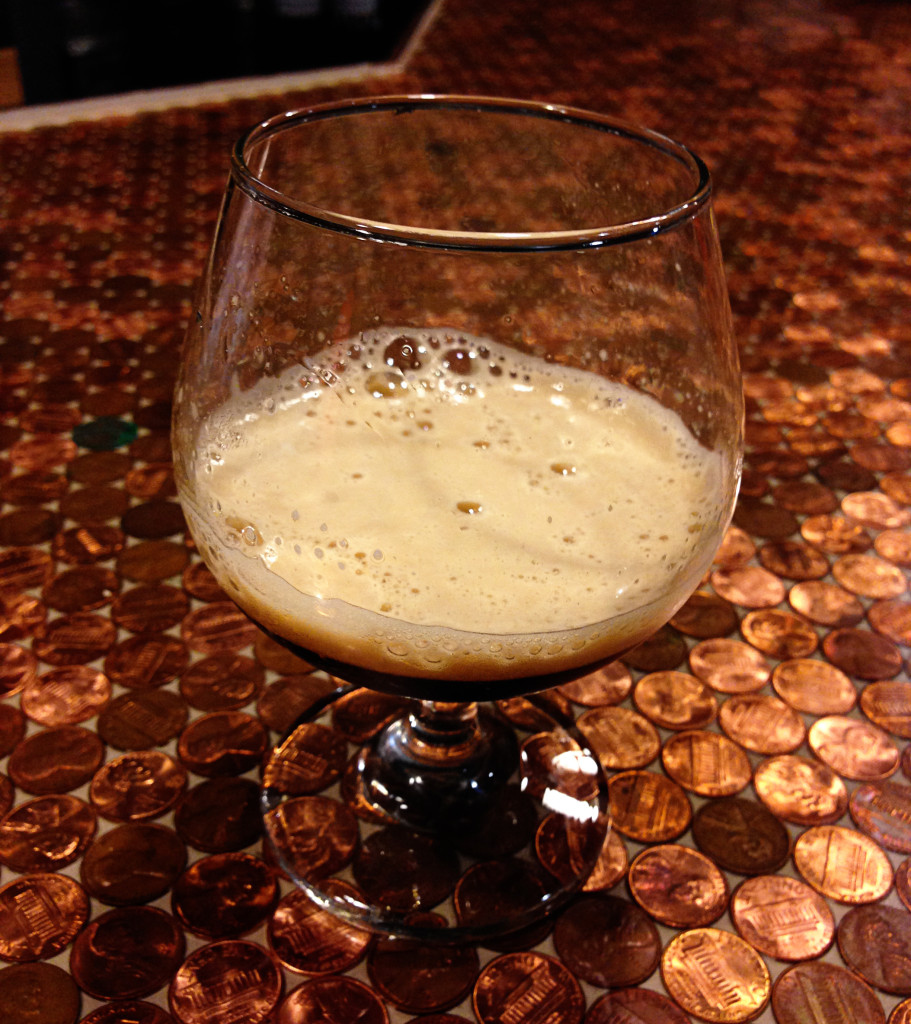 Honig Liefde – this was a collaboration with the Whitewall Founder's Club. Names are drawn out of a hat from the club – they come in and decide the beer to make. Very nice Belgian, no banana taste.
LOB – as much as I wanted this to be "Legion of Boom", it was actually named for "Lots of Barley". And wow, was it good. As a stout, it was richer than their porter. Very nice!
Dually – a Double IPA. Oaky and tasty, but not my favorite of their beers. Although…the bar is high! We had so many really good beers here.
Overall, we really loved this place. We wished it would have been open on Sunday so we could grab a growler on our way back home, but we realize they have 9-5 jobs of their own and need a day off.
Go visit this place if you're in the area! We loved the atmosphere and the great brews. One of our favorite stops that weekend.
Ray's View:
I enjoyed every beer I tried here with the exception of the Honig Liefde. No points deducted from their score, though, as it is one of my least favorite styles and it was not brewed by the regular brewers. Every beer I tasted ranked between 3.0 (Dually) and 4.5 (Jack-O-Nuts) caps for me on Untappd. Walking into a brewery without any expectations and getting floored by their offerings is one of my favorite things in this world, and Whitewall Brewing truly made me smile big.