The first time I tasted Grey Skies was as a mug club exclusive at Two Beers' tasting room. Unfortunately, my taste buds were out of whack from a persistent late-Summer cold that made anything with a modicum of hops taste extremely metallic and nasty. There was no way for me to give this beer a fair shake at that point. It was a shame, because I had such high hopes for this beautiful, murky brew: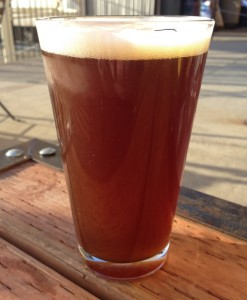 Fast-forward about a week. The cold is gone, and that hoppiness is now fully appreciated. We made another trip to Two Beers tasting room to try the Grey Skies again. It isn't IPA hoppy, but like a standard Pale Ale, it certainly wears its 45 IBUs with pride. The finish is a little bitter, but that only seems appropriate as we turn the corner into Fall. I mean, who isn't a little bitter about that. Besides, the bitterness doesn't linger. It hits your palate, lets you know it is there for a few seconds, and then politely departs.
Janette noted that is also a little more substantial than most of the beers we have been drinking throughout the Summer. Not Porter or Stout substantial, but just like Autumn is a segue into Winter, Grey Skies is a nice transitional beer leading us gently towards the rainy season.
This point was driven home clearly as the sun went behind a nearby building and a bit of chill immediately descended upon us. We are definitely going to be missing the sun in the very near future. But this new brew from Two Beers definitely helps us appreciate Grey Skies.
From the Two Beers Press Release:
Rain, Wind and Grey Skies:
New Brew from Two Beers Brewing Gives a Nod to Seattle Winter Weather
A beer brewed for those dark dreary days we've come to love and hate
SEATTLE (September 30, 2014) – While we love a sunny summer, it's no secret Seattleites love the return of fall – rain, grey skies and all. Two Beers Brewing's newest seasonal, Grey Skies, is an ode to the weather we all crave, yet complain about come February. A dark pale ale, this Northwest seasonal is as easy drinking as it is flavorful, pairing well with cold days and long nights. Hitting taps and shelves around town beginning this Thursday, October 2, Grey Skies will soon be available on draft and in 12-ounce cans throughout Washington, Oregon, Alaska and Michigan.
"Each beer in our new line of seasonal brews was crafted to be enjoyed with the intricacies each Pacific Northwest season holds," said Joel VandenBrink, founder of Two Beers Brewing. "Grey Skies follows Day Hike, our light and flavorful summer session ale, offering a style that's perfect for chilly, fall days. Just wait until you see what we have for winter!"
Beautiful deep mahogany in color, Grey Skies offers a pleasant aroma of lemon, orange peel and caramel. Initially bursting with flavors of orange juice and grapefruit, this dark pale ale gives way to hints of peach and subtle toast. A nod to the Northwest weather and the flavors our beer drinkers have come to love, Grey Skies comes in at an approachable 5.1 percent ABV and 45 IBUs.
Two Beers Brewing will continue to distribute its six year-round offerings throughout fall and winter, as well as a host of limited edition packaged products. In addition to Grey Skies, craft beer enthusiasts can pick up Evo IPA, Immersion Amber and Trailhead ISA in 12-ounce cans, as well as 22-ounce bottles of Evo IPA, Pumpkin Spice Ale, Alta Series and more throughout Washington, Oregon, Alaska and Idaho.