Sometimes the best laid plans made with good intentions just don't pan out. This is not always a bad thing, as instead of being responsible adults following through on the idea of heading to Costco in SoDo, we ended up in Fremont at Outlander Brewing Company. Yeah, slight detour there. Anyway, we were drawn in by a tweet about Biggus Dickus II. Based on name alone we knew we would regret it if we did not get to sample that brew. Bulk groceries and cleaning products be damned…we needed beer!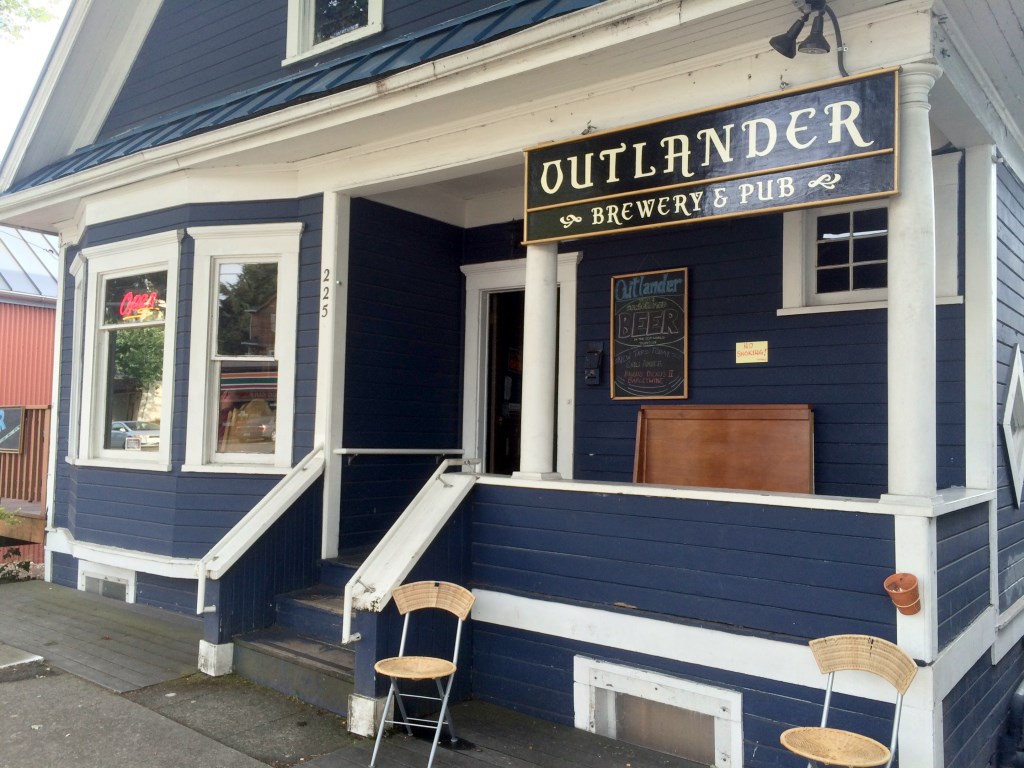 We initially had some trouble finding their taproom, as we were looking for a brewery rather than a century-old house. The exterior blends into the neighborhood quite nicely, so keep your eyes peeled if you decide to check them out.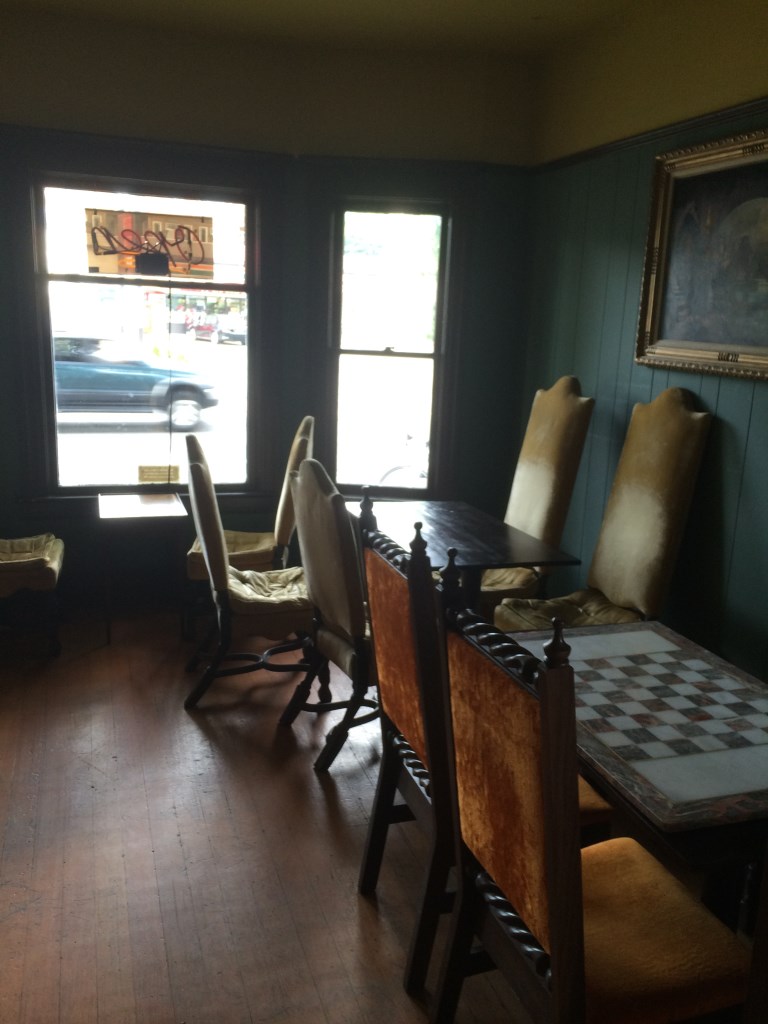 Upon entering, it is immediately apparent that they have done a great job keeping the interior of the old house intact. Of course the only furniture around consists of things to sit on or things to set your beer on, but the old time vibe was very cool and comfortable.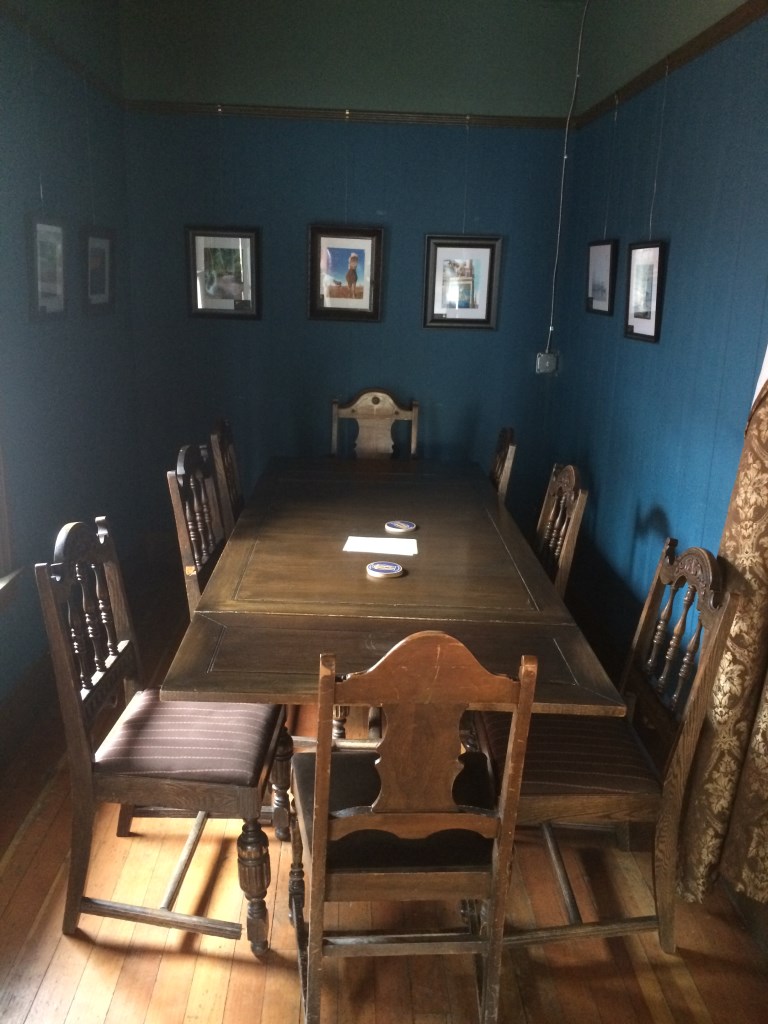 Something else I really enjoyed that cannot be captured in a photograph was the music they were playing. In part this had to do with what they were playing (Ozzy – War Pigs, Pink Floyd – Mother, etc.), but more importantly it had to do with the volume of the music. Some places are compelled to play music very loudly, which just leads to patrons having to shout at each other to be heard over the din. Outlander knows to keep the volume down to the point where you don't even really notice the music unless you want to listen to it. It may seem like a small thing, but as someone who has a hard time conversing in loud venues, I truly appreciated this.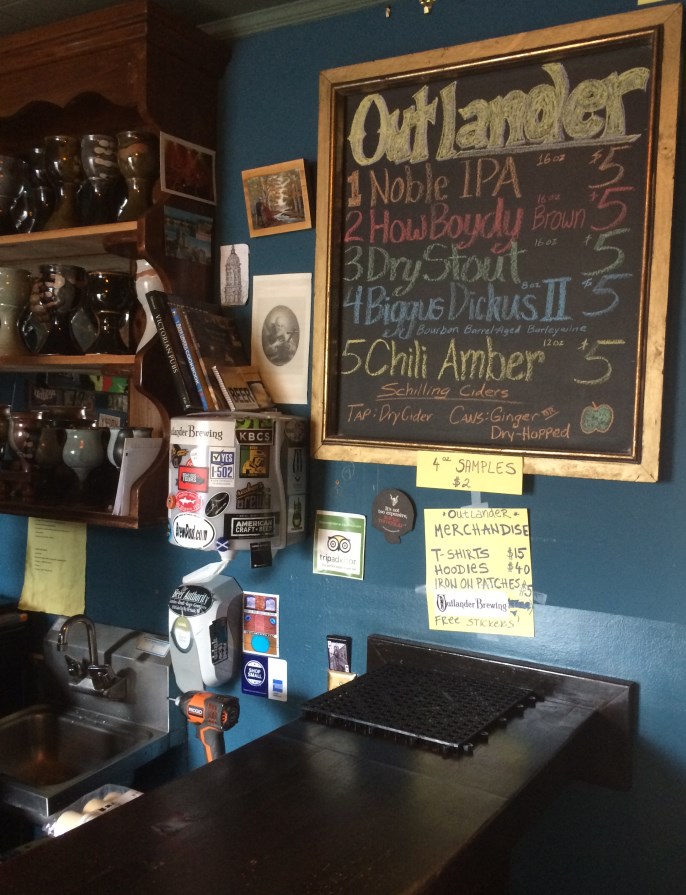 At last. There, in all its colored chalk goodness, was the object of our quest. Rather than just grabbing a Biggus Dickus, we ordered a flight of all of the beers they had on tap. My thoughts:
Chili Amber: Rich, earthy, almost dandelion-like bitterness with just a little heat.
Biggus Dickus II: A bourbon barrel aged barley wine. Very big, very bourbon-ey. Do not get this if you plan on driving any time soon. (This was brewed as their 200th batch of beer, and it was a keeper!)
Dry Stout: Sweet, smooth and creamy. Not too rich, not too dry.
How Boydy: Nearly indescribable, but oddly delicious. Do I smell molasses?
Noble IPA: My least favorite of the five, but still a solid 3 caps entry on Untappd.
Beyond the beers, they also serve up some pub fare. They don't have a full kitchen, mind you, but they do have a 12-item menu (pictured below) that has a nice variety of things to snack on while you are enjoying their beers. I got the pork sausage roll. The folks from Zagat or Michelin won't be showing up soon to hand them any restaurant awards, but the food was exactly what I expected and hoped for from a brewery and pub.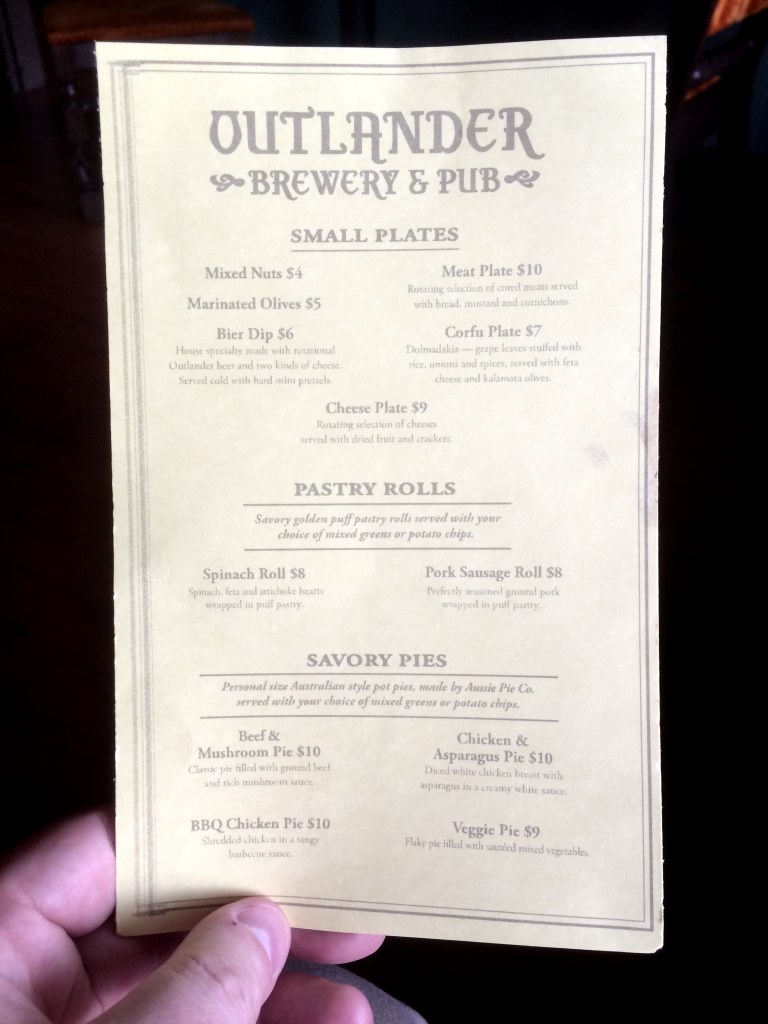 When we visited near the end of June they were working off of a 1 barrel system that did not have any temperature controls. This means the brewers are slaves to the ambient temperatures when making their brews. It is hard to get consistency in such a setup, so that makes me even more impressed with the beers they had on tap.
We briefly spoke to Nigel, a co-owner and brewer at Outlander, about this and he seemed quite excited about the fact that a new 3.5 barrel system was en route to the brewery. This system, which includes the ability to control the temperature of the beer throughout the brewing and fermentation processes, should now be in production. Expect good (and more consistent) things from Outlander in the near future!
Finally, their 2-year anniversary is coming up on Saturday, August 2nd, 2014. They will be celebrating with live music, food, and two new (and very interesting-sounding) beers: Tabitha, which is listed as being brewed with 100% wheat with black currants and grapes, and "Jimminey Cricket", a Stout brewed with roasted crickets. While one might question the spelling of "Jimminey" here, I do not think that sentence contains any typos.
Even if you have no use for cricket beer (come on…you know you want to try it), stop by this weekend and help one of Seattle's great breweries celebrate!
8/4/14 Update:
I (Ray) stopped by Outlander yesterday to partake in some of their 2nd Anniversary festivities, and I have a couple updates to post. First, I asked Nigel again about the new system. It's not there yet, but it is supposed to arrive "soon". The other update is about the "Cricket Stout". I got a pour of this 10% ABV creation, and it was quite good…hardly "cricket-ey" at all! It did start to taste more mealy as it warmed up, but the flavor never became a distraction.