Dark. This beer is dark. It looks dark, and it tastes dark. Mind you, Guinness may look dark, but actually tastes quite light. Maillard's Odyssey, which is named in part for the chemical reaction that occurs when sugars are heated, is dark across the board.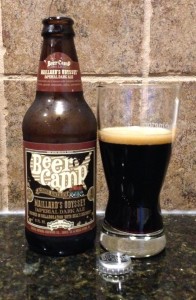 I had a hell of a time classifying this beer. It doesn't taste as smooth or creamy as a Porter or Stout, nor does it at 40 IBUs have the hop bite of a Cascadian Dark Ale. It definitely has characteristics of both, but it clearly is neither. Bell's Brewery and Sierra Nevada put "Imperial Dark Ale" on the label, so I guess I have to just run with that.
"But how does it taste?" I already told you that. It tastes dark. Seriously. I guess "intensely malty" works, too, but that feels like too narrow of a description for what is a very complex beer. The slight alcohol edge imparted by the 8.5% ABV plays very nicely with the dark and rich maltiness, too.
I liked it and gave it 3.5 caps on Untappd. I'm really not sure what else to say. Hopefully Janette has some additional insights besides "it's dark".
Janette's view:
I've heard some good things about Bell's Brewery, even here on the West Coast. I was especially interested to hear that they even have a beer brewed with PNW Centennial hops called "Two-Hearted Ale". So I was looking forward to trying their Beer Camp collaboration with Sierra Nevada.
The Maillard's Odyssey poured an almost black with a tan head. My first impression was of roasted malts, dried fruit aftertaste, and a short alcohol burst at the end. As it warmed up, it was more of the dried fruit aftertaste. Dark fruit, like plums dipped in molasses.
Very nice, but more of a winter beer for me. I could see this warming someone up nicely on a cold winter's night.