Half of Two Brew Review is in Minnesota for the week visiting family, but that is no reason to stop writing. Or to stop drinking beer.
My first stop was Day Block Brewing Company. Nestled on Washington Avenue in the shadow of the old Metrodome, Day Block opened its doors in January 2014. I guess this makes them the New Kids on the (Day) Block.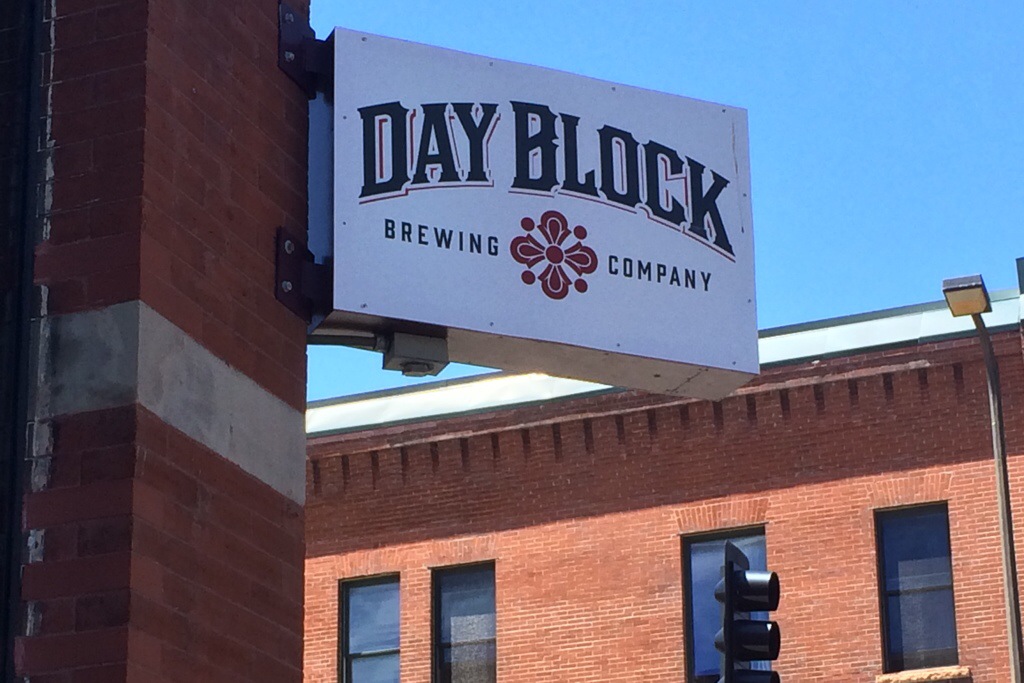 This review contains no more awful puns. I promise.
Anyway, there were breweries closer to the airport, but this was the only one I could find on Untappd that had an IPA on tap. Why would I go somewhere that didn't have an IPA to offer?
I sat down at their bar so I could get better looks at both their beer list (pictured below) and the cute bartender (not pictured below). I then ordered up a flight and got to "work".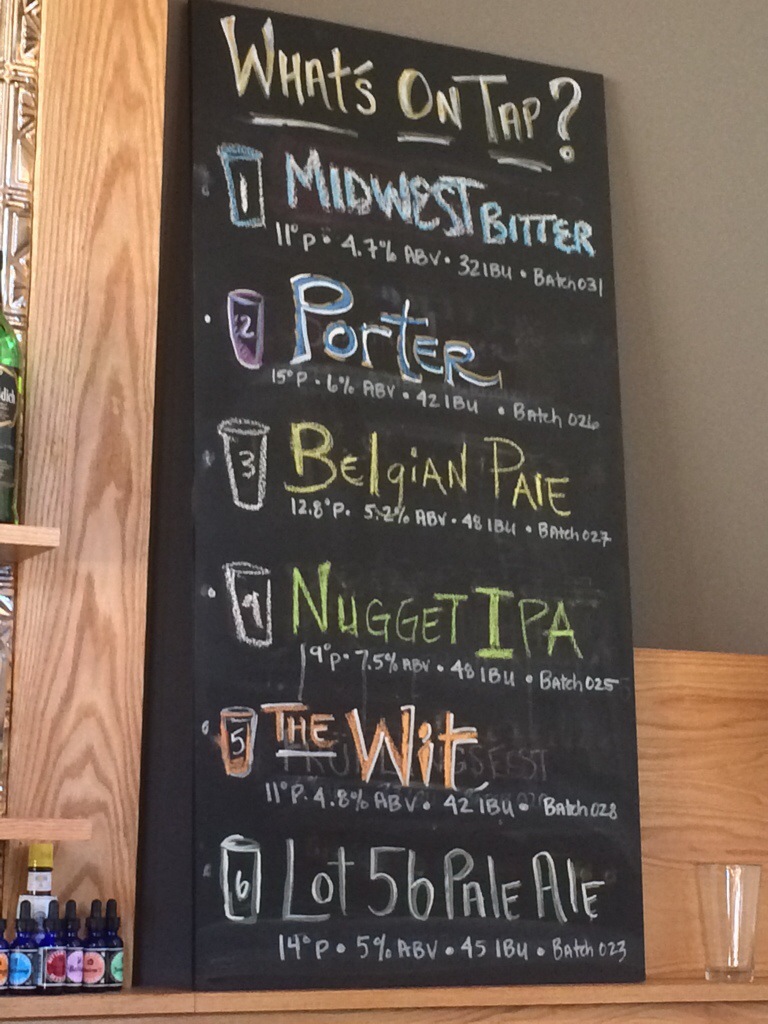 Midwest Bitter: This is "bitter" in name and style only. Low carbonation, nearly a cask ale. Very tasty brew right out the chute here. Way to represent, MN!
Porter: Whoa, either I am really thirsty after my flight, or this is also pretty damn good. No trace of chocolate or coffee here. Just a straightforward porter.
Belgian Pale: This one is weird but tasty. It is somewhat dry, so it tastes more bitter than it's rated 48 IBUs. Not a fave, but it is definitely well made.
Nugget IPA: Sweeter than I anticipated, and at 7.5% ABV, it also is approaching double IPA territory. Also not a fave, but I am spoiled rotten by (and my palate is dialed-in for) Pacific Northwest IPAs.
The Wit: I like this one, but I cannot place why. It is more bitter than other wits I have tasted, but somehow it just…works.
Lot 56 Pale Ale: Like the IPA (the other expected-to-be-hoppy-and-bitter beer in their current rotation), this was much sweeter than expected. Distinctly caramel notes here. Tasty, but definitely tailored for palates that frown on aggressive hoppiness.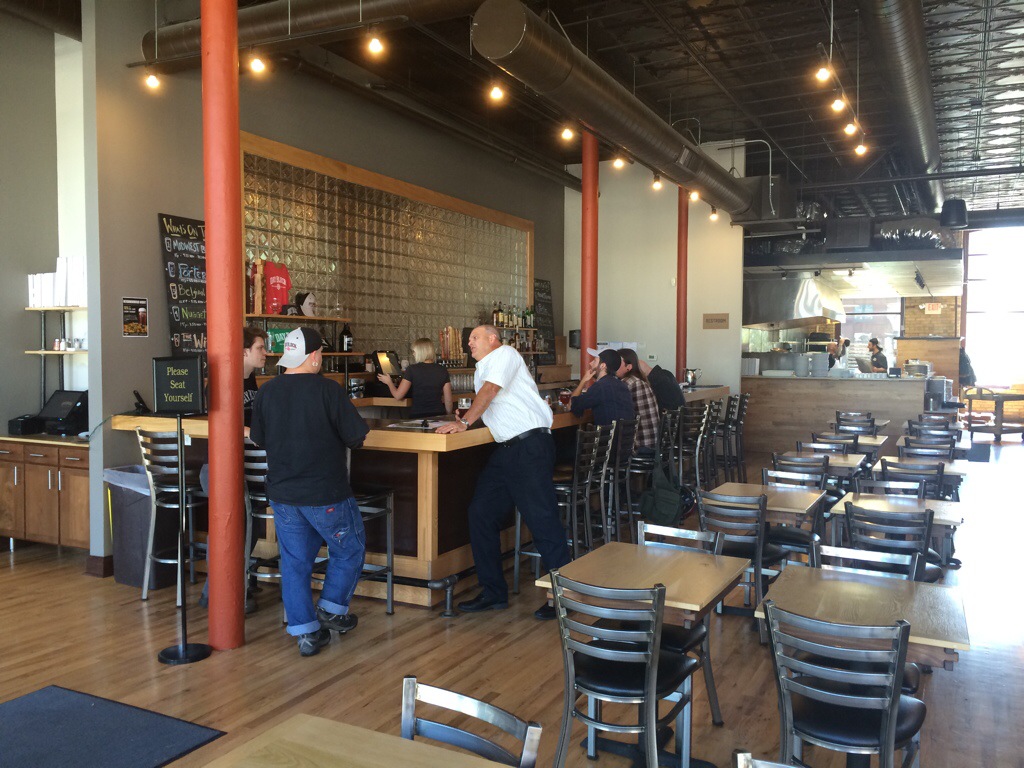 In addition to showcasing Day Block's interior, the above shot captures two of the brewers talking to a local hop producer. While the space looked a little big during my Wednesday post-lunch visit, I suspect it fills up nicely for weekend and after work crowds. It is right next door to the iconic Grumpy's Bar & Grill, so it automatically gets a few extra cool factor points just for that. Grumpy's does a good job hogging most of the adjoining parking lot, but there is a good amount of on-street parking nearby.
Liquor laws appear to be quite different in Minnesota, as I don't think I have ever seen a brewery with a full-service bar back in Washington. This seems quite progressive to me, but that sentiment is quickly quashed by recalling that one has to go to a liquor store to buy beer here…and forget about trying to do that on a Sunday. If those are my options, I will take beer at a grocery store over booze at a brewery any day of the week.
Day Block has a decent food menu, too. One side of it is labeled "Lunch", and the other "Dinner". Both feature salads, snacks, sandwiches and pizzas that they prepare on site. I opted for the Tikka Masala pizza and thoroughly enjoyed it once I picked off most of the cilantro.
All in all, I had a good time visiting Day Block and would not hesitate to stop by again.