I have to start my thoughts on this brew with a disclaimer: Belgians and Blondes are two styles of beer that I do not appreciate fully. I have had good Belgians and drinkable Blondes, but I have never encountered an example of either that thrilled me. That said, let's do this.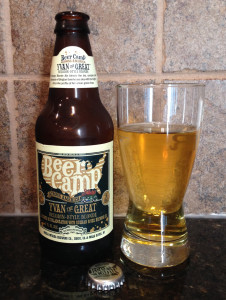 Yvan the Great weighs in at 6.3% alcohol by volume and 50 IBUs. More information can be gleaned from the description of this collaboration on the neck label:
This hoppy Blonde Ale blends the dry, complex yeast character of Belgian farmhouse ales with the bright, citrus-like profile of American-grown hops.
Now that is a factual and well-structured sentence if I ever saw one, and I cannot argue against any of it. Let me break that sentence down a little by latching onto a couple key words here:
First there is "dry". Yes, this is very dry. If you are looking to quench a thirst, I would suggest finding another beverage. I felt like it was actively pulling the moisture out of my mouth as I was drinking it.
Then there is "bright". There are definitely hops here that come across as "bright". I usually enjoy that in a beer, but in this case that particular bitterness felt out of place next to the delicate sweetness of the esters produced by the Belgian yeast. That brings up another mystery for me, too, now that I think about it. Somehow this beer registers as dry, bitter and sweet. Very strange, indeed.
While I did not appreciate my experience with Yvan the Great, it is in no way a "bad" beer. It is quite complex, and I simply did not enjoy most of what was going on.
Janette's View:
When I first saw this beer name, I thought it would be a Porter or a Stout. Yvan is bold! Yvan is rich and velvety! Yvan should be a very dark, smooth, alcohol-y beer that can stand up to a Russian winter! However(!)…this is a Blonde. We redheads don't really appreciate blondes…but in beers…hey, maybe there is some value there (beers always have value).
This poured yellow with a very light head. I took my 6 oz taster glass and off I went.
Mmmmm….I love this beer. I have an affinity for Belgian beers, and this one is really good. It's a great Belgian-style Blonde; spicy, with that lovely taste of clove. I tried to isolate and taste the citrus and hops, but they they were very subtle, and contributed to the overall bright, spicy, clove Belgian taste.
This is easily one of my favorites from the Beer Camp series. Both Sierra Nevada and Russian River Brewing knew what they were doing! This redhead approves.