Picking the first beer from the Beer Camp box was pretty difficult. Our post showing all of the beers proves what a great lineup it is. I ended up just picking a couple blindly out of the box and putting them into the fridge. The first one we're reviewing is Sierra Nevada's collaboration with Firestone Walker, called Torpedo Pilsner, a hoppy pilsner.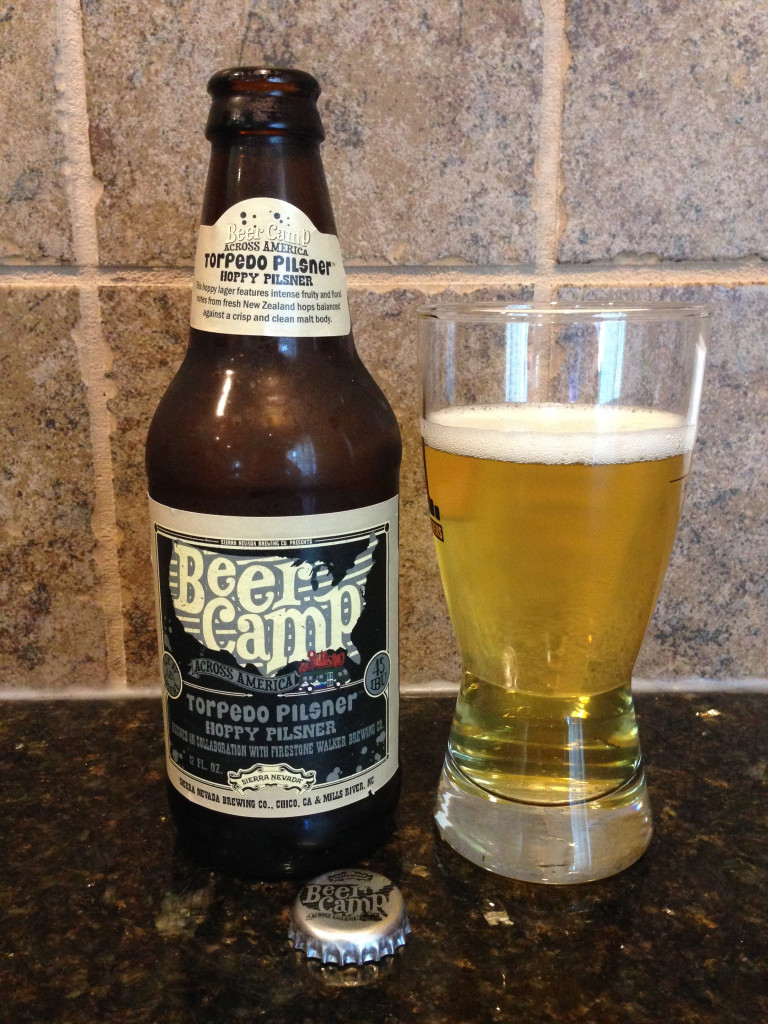 I am familiar with Firestone Walker, as one of my favorite IPAs is their Union Jack. And I love their Parabola and Stickee Monkee. They make great rich-tasting beers such as these. Disclaimer here: I'm not a big fan of pilsners. Even so, Firestone Walker's Pivo Pils wasn't my bag, but I still gave it a respectable 3 caps on Untappd.
On the front of the bottle it states "This hoppy lager features intense fruity and floral notes from fresh New Zealand hops balanced against a crisp and clean malt body."
It poured a pale yellow with a white bubbly head. At 5.2 ABV and 45 IBU, it's a bit hoppier than your regular pilsner. The taste was the clean pilsner taste, but the aftertaste was odd. It was fruity-floral and reminded me slightly of the floral in Elysian's Avatar Jasmine, but stronger and more pronounced. Which was weird to me, in a light beer such as this. I wasn't a fan, and even turned down the rest of Ray's glass (which is really rare for me!) I'm betting that that pilsner fans will appreciate it, but it just didn't ring any bells for me.
Ray's View:
I'm with Janette 100% on being a fan of most of the beers we have tried from Firestone Walker. We also see eye to eye on pilsners, and I typically label them with the title "wimpy yellow beer". This one, however, has a lot of something else I consider a big favorite of mine: hops. Unfortunately, merely throwing hops into something else that I don't particularly care for does not automatically make it something I like. I suspect the underlying pilsner here is not one that I would care for either. There are some, such as Two Beers Brewing's Pilchuck Pilsner for example, that I think are marvelous examples of the style that might taste amazing if they were to "hop it up".
I think I understand what they were going for here, but I also think they missed the mark. This is doubly unfortunate considering how good this beer's hoppy namesake (Sierra Nevada's Torpedo Extra IPA) tastes. As it stands, Torpedo Pilsner just strikes me as hoppy, metallic and entirely forgettable.