The second beer we tried from our Beer Camp 12-pack was Chico King Pale Ale. Unlike Firestone Walker, a brewery from which we have tried many beers, 3 Floyds has managed to elude our radar. Of course we have heard of them, but we have not ever tried any of their beverages.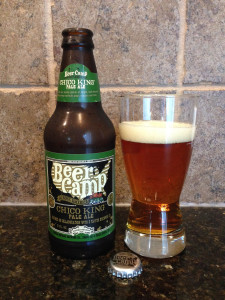 The label touts that "(t)his pale ale stacks plenty of bright, fruit-forward, resinous hop varietals atop a robust malt body", and that actually sounds about right to me.
We tried this one at the same sitting as the Torpedo Pilsner, and this is easily the better beer of this pair. Rather than having two radically different tastes duking it out on your palate like the Torpedo Pilsner, Chico King melds several flavors nicely and makes you wonder how that hop aftertaste got in your mouth. It starts with a rich (but not sweet) malt flavor that gives way to some fruity hop tastes. And then, just as you are getting used to the fruitiness, the distinct bitterness of resiny hops takes over for the rest of the ride down your gullet. Every sip repeats this pattern, and I found it very enjoyable. I wish there was more than one bottle of this one in the Beer Camp package!
Janette's View:
This one had me wishing that the Beer Camp box contained 22-oz bombers instead of 12-oz bottles and cans. It's tough sharing just 12 ounces, especially if we both liked it!
Chico King Pale Ale, 6.5 % ABV and 45 IBU, poured a light copper with a foamy, creamy head. The first sip of this elicited an "Oooooh!" It was well-balanced, slighly fruity, hoppy, and downright drinkable.