Ray and I spent the last few hours helping to pick hops at one of our local breweries (Two Beers Brewing) to use in one of their new brews, so it was kind of cool to me to try the Beer Camp Alt Route Altbier, a collab that Sierra Nevada did with Victory Brewing Company. You see, in researching Victory Brewing, they like to use whole flower hops in their beers, just like we picked tonight.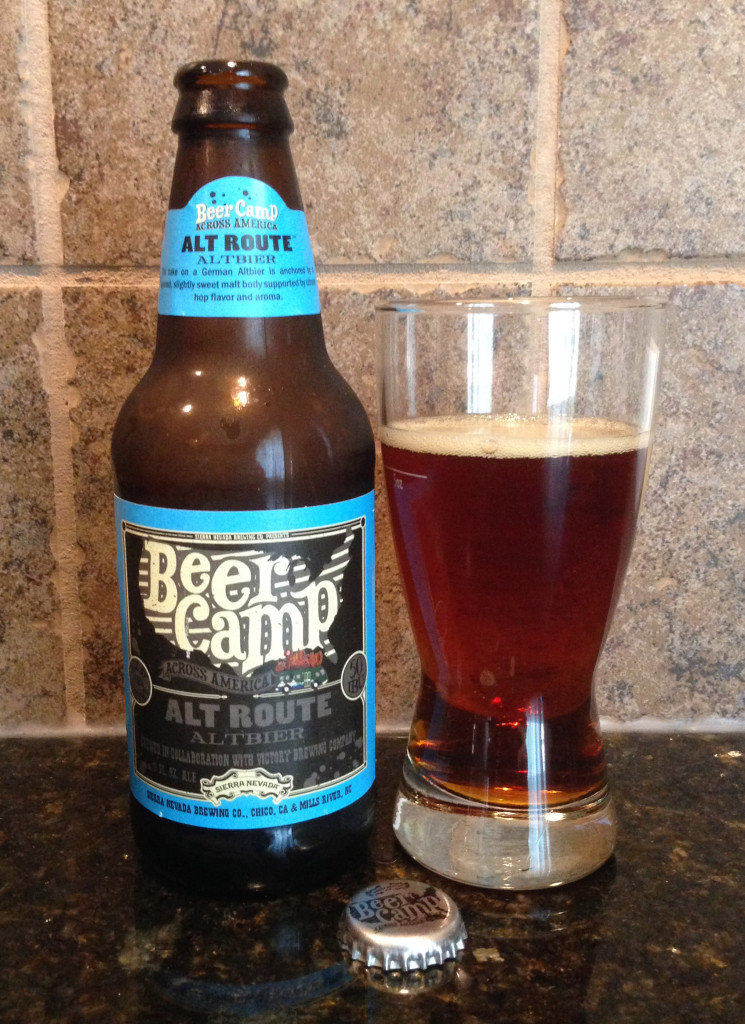 The label on the front reads "This take on a German Altbier is anchored by a layered, slightly sweet malt body supported by citrusy hop flavor and aroma."
Alt Route Altbier, 6.6% ABV and 50 IBU, poured out a copper color with a creamy head. It starts off crisp, then malt flavor and carmel, a bit bitter, and ends up a little sweet. Really nice! I didn't taste the citrus flavor, but then again, I was surrounded by fresh Centennial hops for the last few hours, so maybe my taste buds are off a bit?
I definitely think we need to taste more from Victory Brewing, as I really enjoyed this Beer Camp collaboration.
Ray's View:
Unfortunately, I think I need to recuse myself from this review. Not because of a conflict of interest or anything like that, but rather because my tastebuds are utterly ineffective at the moment. You see, I made the mistake of seeing what it was like to chew on a fresh Centennial hop cone tonight.
If you haven't tried this before, I would strongly suggest that you don't. If you are like me and tend to ignore strong suggestions from well-meaning and probably wiser people, you will one day know what I am experiencing.
The initial bitterness was not bad at all, really. In fact, it was actually pretty pleasant. The issue arose after I had been sucking on that cone for the better part of 30 minutes and tried drinking something. "Wow, that IPA really tastes like Centennial hops" gave way to "Huh, this cider tastes like Centennial hops" which finally led to "Holy crap, this water tastes like Centennial hops".
So yeah. If my palate was not thrashed, I would probably agree with everything Janette said. As it stands, she is happily finishing my portion of this one.