I often wonder if brewers agonize over beer names, thinking about what effects they may see from naming a brew one name over another. Well, I hope the fine folks at Charging Hippo Brewing are quite proud of the name of their Imperial Porter. From the moment I saw the name "Zombie Jesus" I was hooked and had to get some. It was on tap at Naked City as part of Prednisolone, but we arrived after that keg had blown. We started following @charginghippo in hopes of getting a line on where to find this beer, and yesterday our quest ended at 99 Bottles in Federal Way.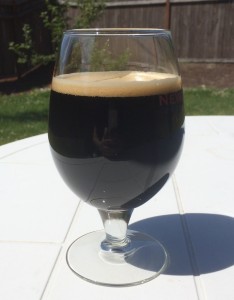 There were some interesting coincidences (?) that we noticed as we were transporting this growler home on Sunday afternoon. We heard "Highway to Hell" and "Raise a Little Hell" back to back on the radio, for one. Another thing was being overtaken on I-5 by three outlaw bikers with very loud rides. Of course they just drove past us, but still, how often do you see members of an outlaw biker gang in the Seattle area? Finally, we saw two different cars with "666" on their license plates. I'm not superstitious, but it was just a little weird to see what appeared to be little disturbances in the universe caused by the passage of our growler of Zombie Jesus through it.
According to the Charging Hippo website, this beer started off as a bit of a joke among friends. Everything in the description looks "normal" until you get to the part where they mention finishing the boil with a "healthy dose of Cadbury Creme Eggs". Reading that for the first time is definitely one of those "OK, you have my attention" moments. If the chocolate addition wasn't enough, they also add a little treat to the fermenter: oak-chips soaked in Woodford Reserve.
If the thought of an Imperial Porter jazzed up with chocolate and bourbon doesn't get your motor running, you may want to have your motor looked at. Seriously.
We poured two generous tulip glass fills for ourselves and commenced the tasting out on deck. It felt a little odd diving into such a dark beer on such a sunny day, but I got over that pretty quickly once I gave it a whiff. I noted a roasted malt smell as expected, but there was another scent there that I could not immediately place. Then it hit me: "Oh my hell, this smells like crème brûlée!" Not the vanilla side of crème brûlée, but the burned/caramelized sugar side. That is such an amazing scent, and it was unlike any other beer I had ever smelled. I mean that in a very good way.
One of the first things that struck us both when we tasted it was not what it tasted like, but rather what it did not taste like: Coffee. There is not even a hint of coffee flavor in Zombie Jesus. This also struck me as rare, as I have grown accustomed to a coffee note of some kind in every Imperial Porter I try. As much as I usually like that flavor, it would have been out of place here.
There are two flavors that stand out in this one, and they are chocolate and bourbon. Neither are overwhelming, though. The chocolate is not in your face, but rather comes across as a silky-sweet feel and flavor as it passes over your tongue. The bourbon flavor was not overly alcoholic in nature. It definitely tasted like bourbon, mind you, but it did not have the alcohol "burn" that sometimes accompanies such an addition. Charging Hippo successfully avoided another potential pitfall by making the transition from "chocolate" to "bourbon" very smooth. I was very pleased with the sensation of tasting a flavor spectrum with chocolate on one end and bourbon on the other without any abrupt shifts along the way.
It turns out that all the running around, weird experiences and anticipation was well worth it. This was a very solid and enjoyable beer, and I gave it 4 caps on Untappd.
Janette's Views:
Sweet Zombie Jesus! What a fine brew!
I was most intrigued that this imperial porter was made with Cadbury Creme Eggs. When I read the description for Zombie Jesus at Naked City Brewing during beer week, I immediately knew I wanted to try it. Unfortunately, it was not to be that day. Fortunately for us, Charging Hippo has been delivering kegs of it to various locations and finally, the stars aligned so we could pick up a growler of it.
Sometimes, anticipation can lead to disappointment, but not in this case. It impressed me that this porter actually tasted like chocolate. Specifically, milk chocolate with a mini shot of bourbon. The combination of the caramelized sugar aroma, the milky chocolate porter, and the warming of the 8% ABV and bourbon is definitely a winner. This can fill up my Easter basket anytime.