The bridge over the Duwamish river that links the South Park neighborhood to East Marginal Way closed due to safety concerns on June 30th, 2010. This was a major disruption to many businesses in the area, but somehow three new breweries (Tin Dog Brewing, Lowercase Brewing, and Burdick Brewing) managed to spring up while the bridge was being rebuilt. The new bridge will be reopening on June 30th, 2014…four years to the day from when it closed. We visited each of these three new breweries recently to do brief reviews of them as well as to get their thoughts on the reopening.
Tin Dog Brewing
Tin Dog is the most recent of these breweries to pop up, having opened their doors to the public in February of this year. They are located just off of WA-509 on Cloverdale Street, which makes them the South Park brewery farthest away from the bridge.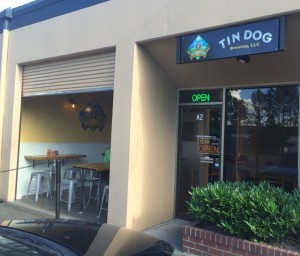 In speaking with Lisa, one of the owners/brewers, she expects the bridge opening to be net neutral on traffic to her brewery. I hope this is more than wishful thinking, as they are right on what is currently the main access road into South Park from the north. Once the bridge reopens, people will have a second route into the area and it is a good distance away from their location.
Another reason I am hoping she is right is that they brew some pretty tasty beers in a good variety of styles. I have not historically enjoyed Saisons or Belgians, but the versions of these styles Tin Dog offers (especially the Belgian Blonde, which I actually loved) hit my palate nicely.
Lowercase Brewing
While Tin Dog is open seven days a week, the other breweries in South Park are much more limited at this point. Having never been to either Lowercase or Burdick before, we decided to scope out their locations (it is hard to make that plural, as they share a common wall between them) after leaving Tin Dog.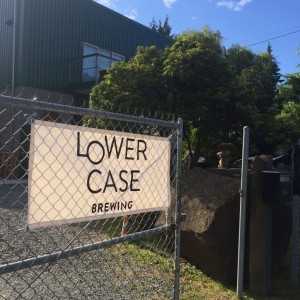 Imagine our surprise when we rolled up to Lowercase on a Monday evening to find that they were open. Our conversation jokingly shifted to something along the lines of "Oh darn, another open brewery. I guess we should stop."
The first thing I wondered about this brewery when I saw their branding was why they chose the name "Lowercase" and then made a logo that depicts the word in ALL CAPS. Once we settled in a bit, however, the cognitive dissonance created by their logo ceased to bother me. It turns out they were open for a screening of a recent Game of Thrones episode, and several folks had shown up to enjoy it along with some beer. It was a pretty cool informal community gathering, I must say.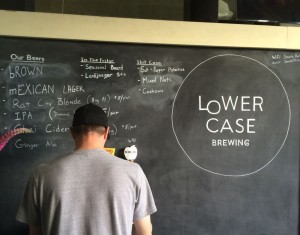 They only had two of their own brews on tap that night, as people have been drinking their beer a little faster than they are able to produce it. That's not a bad problem to have, I guess, and they filled what would have otherwise been empty slots with guest taps. We tried their available wares, the bROWN and the mEXICAN LAGER (Do you see how they are with the lowercase stuff?!?), and enjoyed them both.
Lawrence, the Taproom Manager, whose back is featured prominently in the photo above, was a pleasure to talk to. When I asked him about the bridge reopening and how he felt about it, he took it in a direction I did not anticipate. He noted that some of the regulars from the neighborhood have acclimated to the bridge being closed and are actually a little sad to see it reopen. "They've gotten used to their quiet neighborhood", he said. He further related how apparently many of the semi trucks that traveled along Cloverdale Street before the closure treated the 25 MPH speed limit there as more of a suggestion than an actual limit. Finally, he clarified and summarized that while Lowercase Brewing was excited about the change, not everyone in the area felt the same way.
Burdick Brewery
We stopped by Burdick Brewery a few days later to taste their beers and talk to more folks. Behind the bar was a young woman with a highly contagious smile and access to several tap handles. Call it foreshadowing, I guess, but I knew this was going to be a good stop.
We got a flight of the five beers they had available, and there was not a bummer in the bunch. The one we both agreed on was the Belma IPA, a very solid IPA with a very pleasant hop finish that lingers. I need to find out what hop was used for bittering this one, as I have tasted it before and I consistently appreciate it. Janette got a pint of this, but it was a hard decision for her between the Belma and the American Amber. I experienced a similar struggle, but in my case I opted for the Mild Ale on nitro. This ended up being the best of both worlds for me, as I was able to sneak a few sips of Janette's IPA while enjoying my own amazing beer.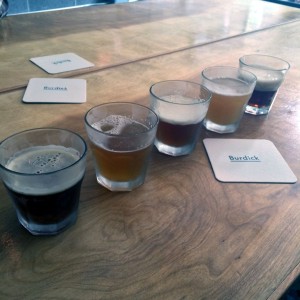 We were able to speak with Max, the owner/brewer at Burdick Brewery and a couple of his patrons from the neighborhood while we were enjoying our beers. Prompted by my relating what Lawrence had shared earlier, Max confirmed that some of his customers have also expressed concerns about both safety and noise with the bridge reopening. He is excited as a business owner about the prospects of additional traffic translating into additional sales, but it was easy to tell that he had a good finger on the pulse of his regulars.
One of those regulars spoke to us at length. I neglected to catch his name, but he is a long-time South Park resident who painted quite a moving picture with his words. He recalled a very different South Park from before the bridge closed, one that had serious issues with drugs, prostitution and violence. The elements that bought these crimes to the area gravitated around the south end of the old bridge and made it a rather dicey place. When the bridge closed, many of the businesses that depended on the extra traffic did not survive. He explained that seeing many long-term businesses close their doors was a painful thing to watch, but that it had unforeseen positive side effect. Namely, the crime rate dropped dramatically. It was as though the elements that were tainting the neighborhood packed up along with the failed shops. A bittersweet trade-off, for sure, but it is hard to begrudge them of this particular silver lining.
Now he sees a stronger neighborhood that has really jelled to form a true community through these difficult years. He is cautiously optimistic that he and his neighbors will be able to pull together and keep the bad elements from returning. I suspect this will be a challenge, but I am truly rooting for them to pull it off.
Four years ago South Park ceased being a place people casually passed through, and if you were there it was because you had a reason to go there. On June 29th, people will be casually passing through once again. Hopefully some of these people discover these three breweries while they are there and consider them reasons to go to South Park.
Tin Dog Brewing: 309 S Cloverdale St. Unit A2, Seattle, WA
LOWERCASE BREWING: 8103 8th Ave S., 
Seattle, WA
Burdick Brewery: 8103 8th Ave S
., Seattle, WA