Pacific Northwest Cider Awards (PNWCA) held their first annual cider competition and three day festival this last weekend at The Woods, Seattle Cider Company's tasting room. Ray and I attended the event and volunteered on Saturday and Sunday. We ended up volunteering at a pouring station, and had a blast!
The cider competition judging was held on Thursday, and the results of the judging were posted at the festival. Best in Show was awarded to the Schilling Cider "Ginger". This is a crisp cider with a burst of ginger flavor. Really nice!
List of PNWCA Winners here.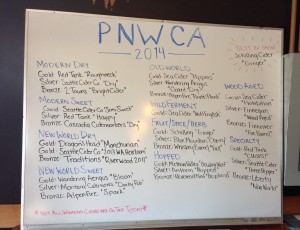 Attendees at the festival voted on the "People's Choice" – announced on the Monday after the festival: d's Wicked Cider's Baked Apple. I can personally testify that it was quite good (in fact, my tasting notes on this one start out "Yum. Yum. Yum.")
As to the festival itself…picture a beautiful blue sky, soft breeze, mid-70's temps, food trucks, and 25 different ciders to try. For $30 in advance or $35 at the door, attendees were given cider glasses and eight tokens for five-ounce pours (or two tokens for a ten-ounce pour). It was a great value!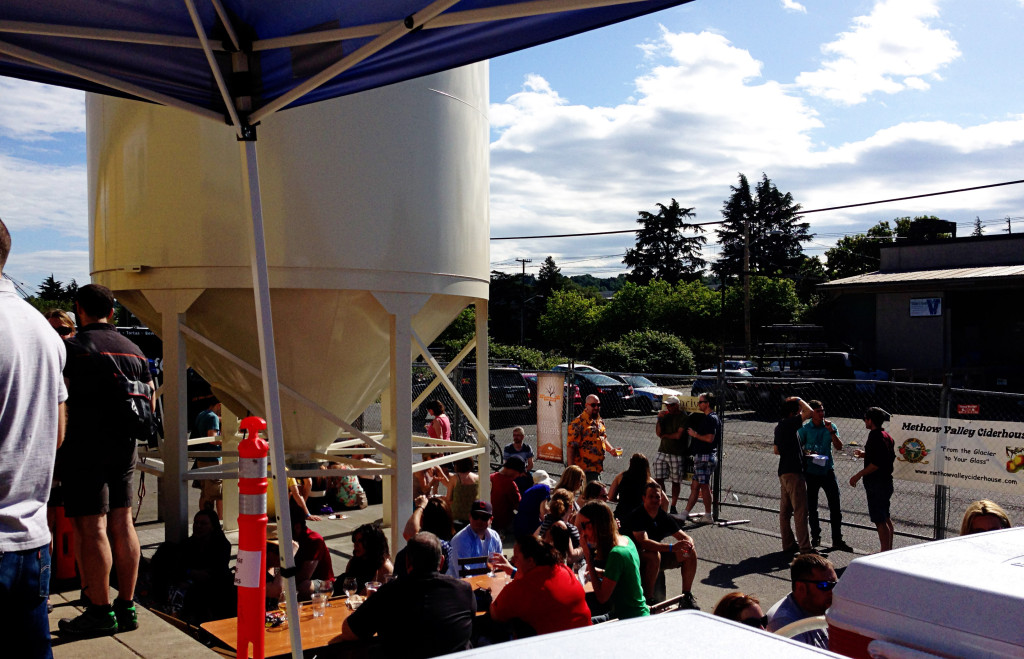 It was especially fun for us to get to talk with cider enthusiasts, like a guy tasting to pick out a cider to be served at his wedding, and cider producers, such as Ken Van Reenen and Chris from Neigel Vintners. Neigel Vintners had a really interesting Basque-style pear cider called "Forgotten Virtue" that we discussed.
After our shift on Saturday, we tasted a few different ciders. Some standouts to me (besides the Schilling Ginger and d's Wicked Cider Baked Apple) were Portland Cider's Pearfect Perry, Methow Valley Honey Bear, Seattle Cider Heirloom and Seattle Cider PNW Berry.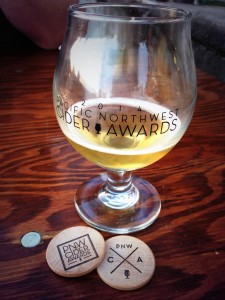 After the Cider Fest, some of the ciders will be on rotation at Seattle Cider and Two Beers tasting room at The Woods in SoDo. Check back with them to see what may be on tap. Ciders that may be on tap at The Woods in rotation:
2 Towns Ciderhouse The Bad Apple
Alpenfire Cider Oaked
Bull Run Cider Bramble Berry
Blue Mountain Cider Oregonian
Dragon's Head Cider Manchurian
D's Wicked Cider Baked Apple
Finnriver Cidery Habanero
Finnriver Cidery Black Currant
Grizzly Ciderworks Hop Claw
Liberty Ciderworks New World
Methow Valley Ciderhouse Honey Bear
Methow Valley Ciderhouse Howling Wolf
Niegel Vintners Forgotten Virtue
Portland Cider Co. Hop'Rageous
Portland Cider Co. Pearfect Perry
Schilling Cider Company Ginger
Seattle Cider Company Heirloom
Seattle Cider Company Semi Sweet
Seattle Cider Company Dry
Seattle Cider Company Gin Botanical
Seattle Cider Company Three Pepper
Seattle Cider Company PNW Berry
Snowdrift Cider Co. Nebula Red
Tieton Cider Works Wild Washington
Tieton Cider Works Cherry
Wandering Aengus Wanderlust
Wandering Aegnus Oaked Dry
Whiskey Barrel Cider Dam Hard Cider
Whiskey Barrel Cider Whiskey
What a great time! We don't know if the attendance was as expected or if The Woods will be hosting next year, but we really hope this experience will be repeated. We really enjoyed ourselves and were introduced to ciders that we normally would not be exposed to.
Great job, PNWCA, and thanks!