Janette and I recently celebrated our 5th Anniversary with a party at our place. My boss offered up his top-secret Kalua Pork recipe for us*, so I knew our main dish was going to end up giving our gathering a bit of a Hawaiian flavor. I wasn't interested in obtaining tiki torches or grass skirts to make it an official theme, but that Big Kahuna Variety Case from Kona Brewing sure called out to me from among all the pallets of beer vying for my attention at Costco. Janette agreed that it would be a nice complement for the pork, so we grabbed one. Another plus side here is that I knew we would be able to review these beers.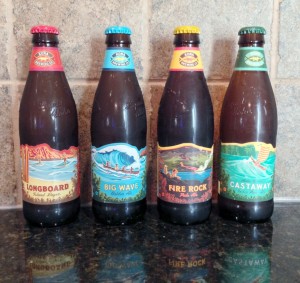 Longboard Lager
Ray's View: This was the first year-round brew in this variety pack, and it can probably be considered their flagship beer. Lagers typically bore the hell out of me because they are, let's face it, boring yellow beers. This one was a pleasant surprise not only for actually having flavor, but also for not having the harsh edge that passes as flavor in a many lagers.
Janette's View: 4.6% ABV, poured a pale yellow, typical "beer" smell with a hint of lime scent, nice crisp refreshing lager taste. I could see this being a nice beer for summer.
Big Wave Golden Ale
Ray's View: Another year-round beer, Big Wave has a faint whiff of citrus…perhaps grapefruit? It has a little more twang than Longboard, but it tasted a little watered down for my liking.
Janette's View: 4.4% ABV, pours a golden color, slightly darker than the Longboard lager, a lot of carbonation, smells fruity but kind of a simple malt taste. Not bad, but not as tasty as the Longboard lager
Fire Rock Pale Ale
Ray's View: This was the final non-seasonal in our box. It tasted quite malty for a pale ale. Not a bad brew, but I was expecting something a little more hop-forward.
Janette's View: 6.0% ABV, light amber color, nice light aroma, can't put my finger on it tho, seems to have a bit more presence than the ones so far. Nice and carmelly.
Castaway IPA
Ray's View: Finally, the seasonal. I was surprised to see an IPA in this role, but after my experience with it, perhaps it is a good thing they only brew it a few months out of the year. It had a pronounced and wonderful pine and citrus hop scent that was quite promising, but this is one beer where the smell does not match the taste. I found it to be bitter and metallic rather than bitter and delicious.
Janette's View: 6.0% ABV, gold color, citrus pine scent, very carbonated, tasted similar to how it smells, not a great IPA, but I would definitely drink the rest of these if someone wanted to drink all of the Longboards, for example.
Overall this was an entirely decent variety pack, and there was something in there for everyone's tastes. And isn't that the whole point of a variety pack?
* The Kalua pork was a highlight of our party. Here is a similar and not-so-secret recipe for this delicious dish, best served with rice. It is well worth trying, especially if you have a bunch of people to feed. It is an investment of time to prepare, but most of the time is waiting for it to cook. While you wait, grab a bottle from the Big Kahuna Variety Case. Just don't hog all the Longboards!