Three Pepper Cider is one of the specialty ciders from Seattle Cider Company. It's a limited edition cider made from dessert apples (Granny Smith, Fuji, Red and Golden Delicious, Gala) and three kinds of peppers – Poblano, Habanero, and Jalapeño.
We were lucky enough to enjoy some on draft at The Woods, the tasting room for Seattle Cider Company and Two Beers Brewing.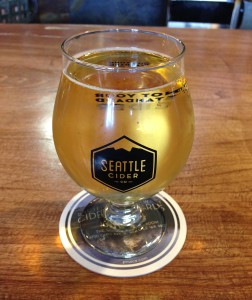 Three Pepper Cider pours out a lovely light gold. 6.9% ABV.
It has a nice pepper taste without being overwhelming. First you taste the sweet of the cider and then a nice happy pepper taste to finish. It's spicy without being too hot, and leaves a bit of fire aftertaste.
This is one of our favorite ciders to pick up in bottles to give friends (Seattle Cider's Gin Botanical is the other), and they've all been pretty happy with them.
We went back yesterday to solidify this review and found there were no bottles for sale in the cooler. We asked, and were told that they are brewing another large batch of this, since demand has been so high. All I can say is "Whoo-hoo!"
Ray's View:
Remember how scary it was as a child to jump into a swimming pool for the first time? You didn't want to do it for any number of reasons: the water looked deep, it surely must be cold, what if I drown, etc. It took much reassurance from your dad, arms outstretched to catch you, but you finally overcame your fears and just…jumped. Remember how awesome it was once you finally jumped? This is a lot like drinking Three Pepper Cider for the first time if you are not a fan of spicy foods.
When you read "Three Pepper Cider", you might dismiss it as being something too hot for your tastes. When you smell it before taking a sip, you might very well think it is going to burn you. You might even start wondering where your dad is and if he might be of any help with this situation. My advice to you at this point? Jump! It only smells hot. It is as though the alchemists at Seattle Cider Company found a way to separate the smell of spiciness from the taste of spiciness. The latter is still there a little, but it is not enough to cause any distress to sensitive palates.
That said, the scent of this cider is undeniably that of hot peppers. I love spicy things, and I could just sniff this stuff for hours.