On the evening of Day 9 of Seattle Beer Week, we made a last minute decision to trek on up to The Noble Fir in Ballard for the last hour and a half of the Midnight Sun Night event.
Midnight Sun Brewing Company is from Anchorage, and the event had some specialty beers not usually available on tap outside Alaska. We were too late to meet the brewers, but were able to taste all six of the Midnight Sun beers.
Ray's first words to the server were "There's nothing under 6.9% ABV, but they must need it to keep warm up there." The beers were poured in 13 and 6 ounce pours. We shared a small plate of cheese and bread, and commenced with the tasting.
A standout to me was the Arctic Devil Barley Wine. It has a sweet honey taste with a bourbon alcohol finish. This reminds me of a dessert wine that I once tasted at a California winery and bought a case of because I liked it so much.
We started out writing out our views on them, and realized they were almost all variations of "alcohol taste/boozy" to them. Below is a list of the beers that we tried, and the description of them that was available at the event. Just add "boozy, warm alcohol finish" to each of them and you pretty much have our review as well.
Arctic Devil Barley Wine
13.2% ABV 20 IBUs
Longtime award-winning English-style Barley Wine, aged in bourbon oak barrels
*Honorable Mention at Hard Liver Barley Wine Fest 2014
Barn Burner Belgian Red Ale
8.5% ABV 27 IBUs
Nicely hopped yet still malty Belgian Red, brewed with Saison yeast
Brewtality Espresso Black Beer
9.7% ABV 17 IBUs
Robust yet smooth Black Bier, aged with locally roasted espresso coffee beans
Meltdown Double IPA
8.0% ABV 80 IBUs
Golden IPA that packs a punch in both hop character and strength
I'll Have Another Coffee Stout
7.1% ABV 30 IBUs
A collaborative recipe brewed by 4 different Alaska breweries – this is Midnight Sun's version
Son of Berserker "Small" Imperial Stout
6.9% ABV 20 IBUs: Second runnings of our notorious Berserker Imperial Stout; SOB is not oaken aged…and it is not "small"
Regretfully, we weren't able to finish all of them, as they were a bit strong.
We decided to head on back over to Bad Jimmy's to do a comparison against their 10.5% Imperial IPA. Because what else do you do after trying six high-octane beers? The Bad Jimmy's IPA, by contrast, was full of flavor without the strong alcohol taste.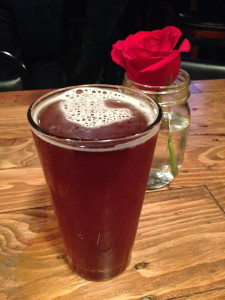 Ray's View:
I was really disappointed that the Midnight Sun reps left before 10pm when the event was slated to run until 11pm. I genuinely wanted to ask about the distinct alcohol finish every one of their brews on tap at The Noble Fir possessed. Was it on purpose? Were our palates just out of tune? Did we not "get it"?
I hope they see this and are willing to discuss it, because I found a couple of their brews to be very good…until the booze finish hit. I would love to taste more mellow versions of Brewtality and Meltdown sometime, as they both tasted quite promising. (And yes, I recognize the irony in asking for mellow versions of Brewtality and Meltdown. I didn't at first, but I do now. *grin*)