We decided to take it easy today and are keeping our Seattle Beer Week celebrating local to Renton. This was one of the few SBW events scheduled for Renton this year, so it is awfully convenient that we are fans of both Boundary Bay Brewery and the Dog & Pony Alehouse!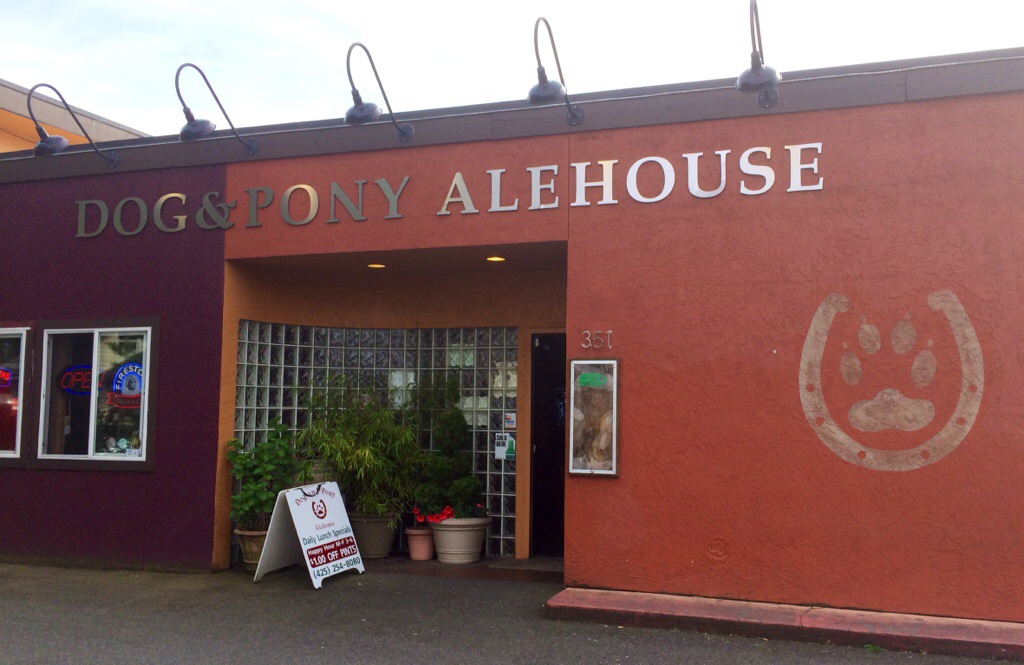 We sat outside for most of the event, as the weather was quite cooperative. After a bit of a confusing and rocky start, Boundary Bay's beers started being poured about 6:30pm instead of the scheduled 6:00pm. They brought four kegs, and a couple of them were brews not typically seen outside of their Bellingham taproom. Here's what was pouring:
Cedar Dust
6.5% ABV IPA
This was my first beer of the night, and I made a good choice. It had a citrus/pine scent, and a very rich flavor. Lots of hops here, but they blended nicely into a very balanced IPA. We both consider this one to be our second favorite of the evening.
Safety Break
4.5% ABV ISA
Janette got this one first. I tried it after the Cedar Dust, and believe me, that was the incorrect sequence. It tasted OK to me, but after the fuller IPA, the ISA left me wanting. I should have tried it first, as I bet I would have liked it a lot more and perhaps given it more of a fair shake if I had. Janette did try this one first, and she really enjoyed it.
Scotch Ale
6.4% ABV
This the second beer I ordered, and while I am not a Scotch Ale guy, it was quite good. Janette thought it smelled earthy and peaty, and I thought it tasted milder than it smelled. Overall it was very pleasant.
Wonderland
8.5% ABV Belgian Strong Golden Ale
This was Janette's second beer, and it was the last of the four BB offerings. It was much lighter than a typical Belgian, and because of this it may just be a "gateway brew" for me. Hopefully I will start appreciating this style more going forward. Irrespective of whether I like this style, I loved this beer. The wilder, more "farmhouse-y" yeast profile was present, but it was not dominant. This allowed me to not overlook it, but rather to accept it as a part of a larger whole. As much as I liked the Cedar Dust in specific and IPAs in general, I would probably order the Wonderland over it. Oh wait…that is exactly what I did when it was time to select my third beer. *grin* Both of us considered this to be the best beer of the night.
Beyond the beers, there were also door prizes handed out by Paul, the BB rep at the event. Patrons received a "Keep this Coupon" ticket for every BB beer ordered, and Paul was drawing tickets out of a bucket to divvy up the loot. Janette won one of the t-shirts on the very first drawing, and I won a baseball cap towards the end of the evening. He also had dozens of pint glasses to give away as well as sweet hoodie which served as the grand prize.
As I alluded to earlier, the night started off kind of roughly. Fortunately it was nothing that could not be rectified by some superior customer service by one of the Dog & Pony servers. We were on our way to having a mediocre visit at best, but one person's efforts helped turn the evening around.