This is one of the events I have been anxiously awaiting for since I first started perusing the Seattle Beer Week website. It was held at The Pine Box, and they had 12 (TWELVE!) Randall units set up. What is a Randall, you ask? Well, a Randall is a cylinder that you put between a keg and a tap and fill it up with flavorful things. When the beer flows through it, the alcohol latches onto said flavorful things and infuses those tastes into the beer. Here is what they look like in action: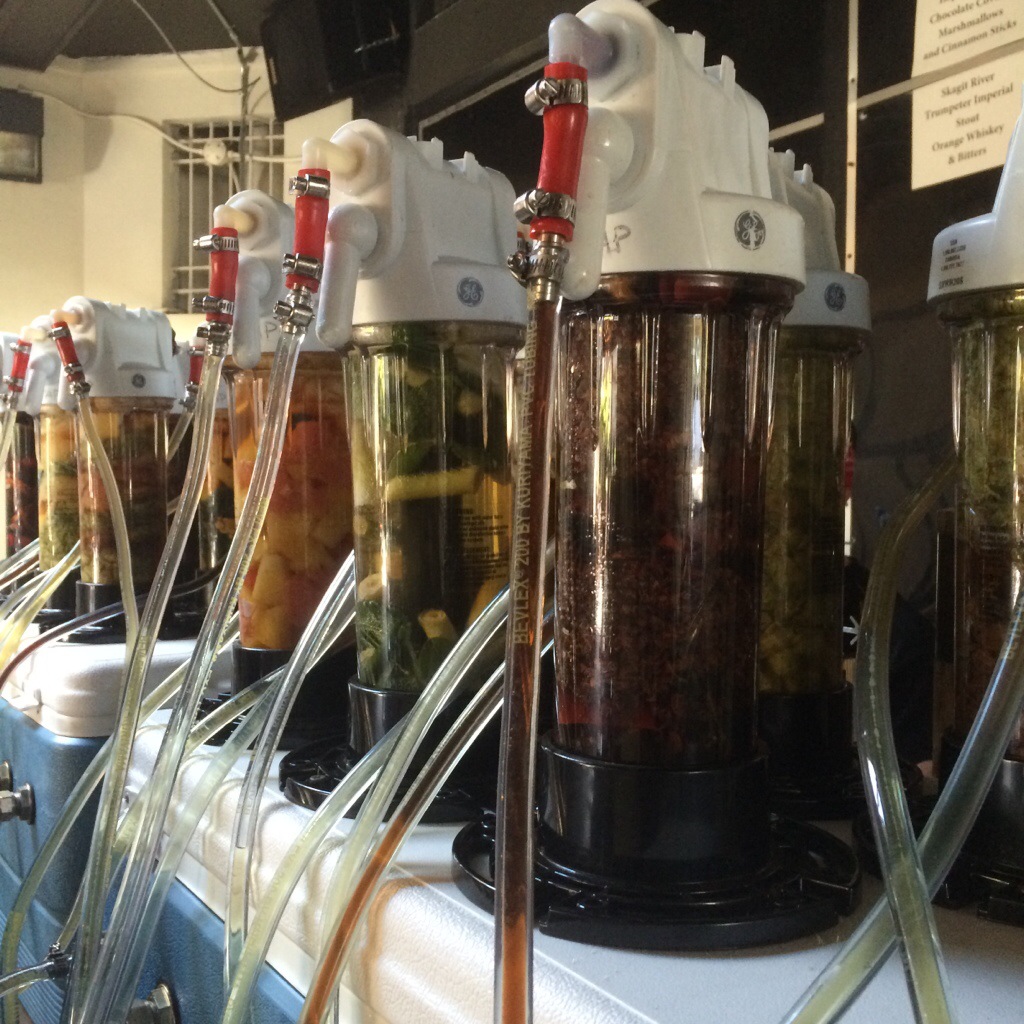 We found a spot at a community table outside in the breezeway and sat down to plan our course of action. We asked a server how the event worked, and she politely explained that each pour cost one drink ticket, and that each drink ticket cost $2. Every server was selling the tickets, so once we were informed about what was happening things flowed quite smoothly. We initially thought 12 different infused beers would be too many, but that was before we found out they were 4 ounce pours. At that point we said "what the hell" and went for it. Here's was was on tap. Or rather, here is what on Randall:
Breakside (OR) Apollo & Dionysus through Chrysanthemum Flowers.
Mums are pretty, but they sure don't taste too good. "Floral" and "bitter" make strange bedfellows. Hopefully the next 11 are better!
Crux Fermentation Project (OR) Pilsner through Lemongrass, Kaffir Lime Leaves, and Thai Chiles.
Very flavorful. The lemongrass and lime were immediately apparent, and the finish of Thai chilies is very nice and not too fiery. Great…now I'm craving Panang Beef.

Gigantic (OR) Too Much Coffee Man through Cocoa Nibs and Chili.
Smells great even in a little plastic cup. Coffee, cocoa and chili conjure up images of Sesame Street's "One of these things is not like the other" song with chili being the odd man out. Janette thought the combo of coffee and low carbonation was reminiscent of a wine, albeit a "coffee wine".
Double Mountain (OR) Molten Lava through Simcoe Hops and Bourbon-Soaked Wood Chips.
Interesting. The wood chips are a bit overpowering, and this much Simcoe is ill-advised. Not awful…but not really awesome, either.
Fort George (OR) Vortex through Mango, Pineapple and Grapefruit.
Unanimous vote: "I wanted to like it more." Where the first four were very heavily infused with their ingredients, this one had a much more subtle taste to it. I was expecting a much larger taste of mango pineapple and grapefruit.
pFriem (OR) IPA through Whole Leaf Citra Hops.
Very piney nose. I'm very interested in how this one tastes unadulterated, because the whole hop leaves make it taste very green. This is another one I was hoping would appeal to me more.
Fremont Brewing (WA) Summer through Grapefruit, Belma Hops, & Rosemary.
OK, now THAT'S what I'm talking about! Seven brews in, I have found one I love. Janette agrees. This one's components blend instead of engaging in a bear fight. The Fremont guy at the pouring station told me they regularly have this infusion on tap on their in-house Randall, so that goes a long ways towards explaining the maturity of the recipe. Bravo, Fremont Brewing!
Machine House (WA) Dandelion Pale through Stinging Nettles, Wasabi Root, & Pineapple
Number 8 is also a keeper, but I can't place my finger on why. We love Machine House's Dandelion seasonal, and the addition of nettles, wasabi root and pineapple is a nice touch. However, it's hard to really taste any of those components in there individually. Everything just kind of… blends.
Backwoods (WA) Ridge Run Stout through Coffee Beans and Golden Grahams.
I wanted to taste the Golden Grahams more, but this is a delicious Stout nonetheless. This is another one that I have not tasted the original so it is hard to tell how much is changed by the addition of the coffee beans in the Randall. I could drink this one all night, to be perfectly honest.
Schooner Exact (WA) Imperial Stout (8% ABV) through chocolate covered marshmallows and cinnamon sticks.
Wow! This one is truly as advertised: a chocolate marshmallow cinnamon imperial stout. Delicious.
Engine House 9 (WA) Farmhouse Un (Barrel-fermented Brett beer) through Citra Hops, Peaches and Peach Hi-Chew Candy.
There is a lot going on in this little glass, and I love all of it. Sour Brett, sweet peach, bitter hops…yet it all works somehow. Very tasty!
Skagit (WA) Trumpeter Imperial Stout (10% ABV) through Orange Whiskey & Bitters.
I won't say we saved the best for last (Janette's edit: I will!), but this one is amazing. The orange whiskey shines here, but is this really a Randall infusion? Couldn't one simply blend these two with the same effect? I'm not complaining here, but I am not sure how one liquid can be pressed through another…
Stop the presses! There is a 13th entry in this lineup! We asked our server about the empty spot in the middle of our taster map, and she explained that the Dogfish Head entry was only available at the main bar inside the building. That would have been nice to know earlier, but hey, no sense stressing out. It's Seattle Beer Week!
Dogfish Head World Wide Stout through Cocoa Nibs and Coffee Beans.
This one was late to the table, but it was a true contender. Very boozy, but in a good way. A very good way. Others had done the "cocoa and coffee" pairing tonight in some fashion, but the 15-20% ABV (not sure why they don't have a more precise figure) of the World Wide Stout really made this one stand out. It was like a beer coffee chocolate cocktail, and it is the one entry that made both of our Top Three lists:
Janette's Favorites:
1) Crux
1) Skagit River (a tie!)
3) Dogfish Head

My Favorites:
1) Fremont
2) Engine #9
3) Dogfish Head
Another awesome Seattle Beer Week event! Big THANK-YOUs to The Pine Box for hosting the event, and to all of the brewers who participated! We now know that we *can* handle their Randalls. Well, at least half of them anyway. *grin*