The rush hour traffic out to Bothell from downtown Seattle was unpleasant, and the drive back home to Renton was long, but what happened in the middle there was a bit magical. The kind folks at Foggy Noggin put on a great event. There was room for 20 in the garage converted to a tasting room, and 19 folks managed to make it. The person slated for slot #20 had childcare issues, so they cannot be faulted for not helping fill the place to capacity. Regardless, I was very impressed with the turnout so far from the heart of Seattle.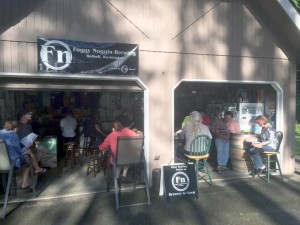 Foggy Noggin's brewer, Jim, kept everyone in good spirits by pouring one of his regular (read: non-barrel-aged) brews for anyone who wanted one before the event officially kicked off. Janette tried the Matty's Mild, an English Mild Ale, and she got me the Christmas Duck, an English Porter. We both thoroughly enjoyed our pre-event beers, and got a good feeling about how the evening was going to progress.
Once everyone was settled in, Jim asked if anyone had been to any of his previous barrel-aged events. A couple folks had, and he explained to them that they may have tasted younger versions of a couple of these brews. Those folks were the lucky few who had a better idea than the rest of us about how amazing this journey was going to be.
The first brew delivered to us was Big Chief, an Imperial Irish Red aged in a Woodinville Whiskey Company barrel for 2 1/2 months. I found it to be very nicely balanced and not too boozy. Sometimes a beer's flavors pop up at different points in the drinking process, but this one's flavors hit all at once. Not sure what else to call that other than "balanced".
The second offering was the Twice Kastrated Ale, an Imperial English Strong aged in a Woodinville Whiskey Company barrel. If I recall correctly, this one absorbed a great deal of whiskey taste from the barrel, and needed to be toned-down and offset (dare I say "balanced"?) by the standard version of the Twice Kastrated Ale in a 50-50 blend. That ratio tasted just about right to me, as I find too much whiskey taste to be rather off-putting.
Next came another version of the Twice Kastrated Ale, this time aged in a Lagavulin Distillery oak barrel. I am far from a whiskey and Scotch connoisseur, and I am not fond of the peat taste found in Scotches from the Islay region, so this one did not appeal to me as much as the others. If this type of Scotch is your bag, though, I suspect this brew would have been at the top of your list. The earthy, peaty flavor came through loud and clear but was still mild enough for me to enjoy the overall taste.
The last official beer of the tasting was Wasky aged in a Woodinville Whiskey barrel. Wasky is an example of an almost extinct style called a Burton Ale. It is brewed with blackstrap molasses, brown sugar, and a British hop variety named Target which is difficult to find outside of England. This dark and almost sweet brew was easily my favorite of the barrel-aged beers that were a part of the event.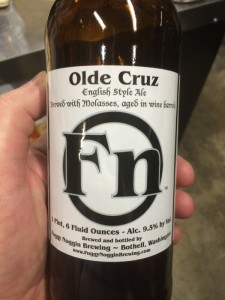 Just as we thought things were winding down, Jim asked everyone if they wanted to try another beer. Unsurprisingly, no one objected. What came next were samples of Olde Cruz, an out-of-production barrel-aged English Strong Ale. He explained that this one tasted a little harsh when it first came out of the barrel, but that it has been aging very well. I'm not sure how long it had been stored, but it was simply amazing. It was very rich, felt very smooth on the tongue, and had a bit of tartness to it that bordered on crossing over into "sour" territory. There is no other way to put it other than he clearly saved the best for last. I would have loved to have taken several bottles of this home for special occasions, but that was unfortunately not an option.
After the final pour of the rare Olde Cruz, the crowd started to thin a bit. The event was scheduled to be from 6:00pm to 7:30pm, but our gracious and generous hosts did not seem eager to kick everyone out. Many of us continued our conversations about beer over small glasses of the leftover beer from the tasting as the sun got lower and lower in the sky. It was clear that Jim did not want to see it go to waste, and for that we were quite thankful. One of his neighbors came over at one point, bottles in hand. Turns out he brewed a Pilsner recently and wanted to share it. You gotta love that kind of neighbor.
Like I said at the beginning, this really was a magical evening. It was dark when we left, fully two hours after the slated ending time. I am sure many more formal places would have shooed us all away long before then, so I tip my hat to Jim (and his wife Kim) at Foggy Noggin for their hospitality. Thank you both for a wonderful tasting event.