Have you ever heard of an 11-day week before? Yeah, me neither. However, if it was going to happen to any week I am glad it happened to Beer Week! Janette and I were somewhat gassed from our anniversary party the previous day and from the other nine days of Beer Week events, so we decided to take it easy for the day. That doesn't mean we didn't get out and enjoy ourselves, but it does mean we did not seek out any Beer Week events.
Our day started off at Machine House Brewery. Janette got the Mild, and I tried their new Summer Session Ale, a 4% ABV English Bitter that was both tasty and light. I could have drank pint after pint of it and not gotten tipsy, but we agreed going in that one would be enough because we were going to visit several places.
On our way back to the car, it dawned on us that we had parked across the street from Full Throttle Bottles. Some men cannot make it past a Coach store in the mall without their spouse steering them in, so I consider myself lucky that I have a wife that has a hard time walking by a great bottle shop. It actually is rare that we walk by either, but I am happy that the two offset each other pretty well. We browsed a bit and ended up buying a few items, including a bottle of Midnight Sun Brewing's Sockeye Red IPA. We both seriously want to know if all of their beer has a distinct alcohol finish, so we grabbed this 5.7% ABV brew to review later.
Leaving Georgetown, we headed north and west to Two Beers Brewing's tasting room "The Woods" to continue our adventure. Janette got the Whiskey Barrel-Aged New England cider (OMG…YUM!), and I had a Bob's Beer, a Brown Ale by Georgetown Brewing. I'm not a fan of this style, but this stuff is actually much less annoyingly malty than most Browns and Ambers. It also has a charitable back-story that is worth reading. We ended up deviating from our stated goal of "one and done" a little here, but who can resist the Tart Arabica Bourbon Coffee Sour on tap here for what I assume will be a very short time? We certainly cannot, so we compromised and got a half pour of this and split it. Call it "one and a quarter and done", I guess.
The next stop was somewhere we had never gone before despite it not being too far off of our beaten path. Tin Dog Brewing is a two-barrel nanobrewery in the South Park neighborhood just a couple miles down WA-99 from Two Beers.
We started out with a flight of all the available brews, then I ended up with a pint of Hoppe the Belgian, and Janette picked up a pint of the Saison. We visited a bit with the brewers/owners Eric and Lisa, and left with a growler of the Saison.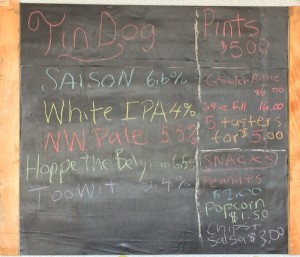 Finally, we opted to make one final stop. Again, we were just too close to another brewery that is just off of our daily route enough to make it rare for us to visit. We had only been to Big Al Brewing in White Center once before a couple years ago, but somehow I retraced my steps back there without even firing up the GPS. I picked up their Rat City Blonde, and Janette grabbed a glass of Sourlicious. Both were surprising choices, as neither of us have historically enjoyed those styles. In the end, however, Janette made the better choice.
It was a very relaxing end to Seattle Beer Week #6. We went home with smiles on our faces, four new stamps in our WABL passport, and feelings of anticipation for Seattle Beer Week #7.