Firebird Smoked Hefeweizen is a seasonal brew by Gigantic Brewing Company from Portland, Oregon. It's #18 of their "endless series of Limited edition artist and artisan beers" with a label designed by Heiko Müller.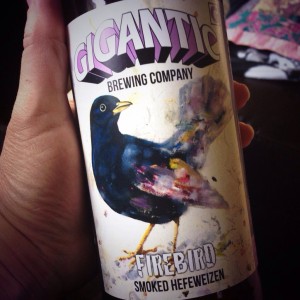 The description on the bottle reads "A refreshingly complex wheat beer. Aromas of clove and banana intermingle with light smoke imparted from German malt kilned over beechwood fires." The bottle also has a quote from Douglas Adams "Flying is learning how to throw yourself at the ground and miss." As I love both the art and Douglas Adams, I was already appreciating this beer.
It poured a pale amber into a pint glass with a thick foamy head. It smelled like bacon. More specifically, bacon fat after you've fried up a big pan of delicious bacon. Another thing to love about this beer!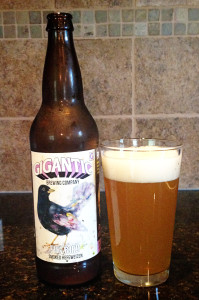 Despite the bacon scent, it tasted like a hefeweizen with a Belgian-like taste, with a light smoky taste at the end. Very nice. As it warmed up, I could taste more of the spice/clove taste, but still with the smoky aftertaste. It had a surprisingly nice balance of smoke and wheat beer in this. I would definitely pick one up again (if we didn't have 53 others in the queue to taste…).
Ray's View:
My tasting notes on this one are somewhat limited, but I do still have something to say. I am going to go with "smoky and complex" to describe the taste, as there was a lot going on in that glass.
The other thing that struck me is that this is much more of a traditional European Hefeweizen than the West Coast interpretations of this style I am accustomed to from Pyramid and Widmer.
I prefer the latter, but even with this handicap against it, this brew still came in at a respectable "I'd drink this again" 3.5 caps on Untappd.