After being tipped off about the existence of a new addition to the Ballard neighborhood's burgeoning list of breweries in a comment on the Stoup Brewery review we posted about a month ago, Janette and I finally had opportunity to check out Bad Jimmy's Brewing Co. last night. We don't get over to this part of Seattle nearly often enough, so it was quite fortunate that we had a housewarming party to attend earlier in the evening that brought us within a couple miles of their location. There weren't any official Seattle Beer Week events in the area, either, so it was definitely the right time to visit.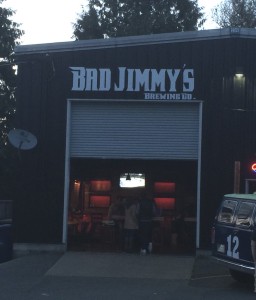 The Ballard Beer Blog lists nine breweries in this neighborhood. That does not include ones without tasting rooms, and, for some strange reason, it does not include Bad Jimmy's. With that kind of brewery density, you have to have some kind of "hook" to bring people in. For Bad Jimmy's, their hook appears to be intensity and creativity. Both of these factors are revealed in the brews they produce, and while they only had five taps flowing when we were there, each of them was special in its own way. Greg, one of the brewers, was behind the bar and poured us a flight of the five available brews: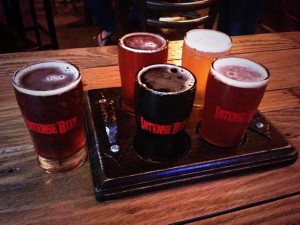 Blood Orange Honey Wheat Ale: This was a light brew that, at 6.5% ABV, isn't exactly light. The orange and honey were both very delicate, so this might be the one your friends who are not quite as amped-up about intense flavors in a beer will enjoy the most.
Imperial IPA: This one may have just become my "go-to" Imperial IPA. It is not a typical example of this style, but it hit my palate perfectly. The hop bitterness is offset quite well by a well-defined caramel note coming from the malt side. This impressive pairing of bitter and sweet does a great job of masking the 10.5% ABV, thereby avoiding the alcohol burn that often plagues this style.
CDA: This was not as rich as I expected from a Cascadian Dark Ale, but it was still quite tasty. I am not exposed to this style very much, and I did have it right after the Imperial IPA, so perhaps my expectations were a bit askew.
India Red: I was mixed on this one, and I couldn't place why. Janette figured it out, though. Because she tasted a bit of a Belgian/Farmhouse twang, she asked Greg if it was brewed with a different yeast than the other beers. He appeared suitably impressed with her question and confirmed that yes, the India Red is brewed with two different yeasts…one of which is typical to Belgian styles. It was definitely a good beer, but because I am not a big fan of the flavors this kind of yeast produces, it was not my favorite.
Habanero Amber: Speaking of my favorite, this is it right here. I cannot recall the last time a beer hit me with such an intense and unexpected taste. In a nutshell, this tastes like it was brewed with Essence of Firecracker Smoke. I absolutely loved this one, and I definitely have to write a separate review for it sometime. That sounds like a convenient excuse to go back soon, doesn't it?
We usually get to a brewery we want to review in the daylight, but we got there just about at dusk. Our pictures are a bit dark because of this, but hopefully they still help convey the gist of the scene. That said, I really liked how they laid the place out. There are two front entrances; one is a standard door and the other is a huge garage door. The latter, I assume, is either open or closed depending on how cooperative the weather is being. The bar is awash in red lighting with black trim, which matches their logo and really helps solidify their brand.
Several factors make this a great place to hang out with friends. The tables are mostly designed to accommodate four or six people, and there is plenty of room to play any of the several games and decks of playing cards available for patron use. They also have a couple TVs set up for viewing sporting events, and it was nice to see the Stanley Cup playoffs were playing during our visit. Finally, although the large popcorn machine had run dry when we were there, fresh-popped popcorn to snack on and clear one's palate is always a bonus in any tasting room.
My only critique is that the music seemed a little loud. To be fair, it was Saturday night and everything everywhere gets turned up a notch or two on Saturday night. Determining if it is more serene during the daytime sounds like yet another convenient excuse to go back soon. Not that I need another excuse, mind you. Bad Jimmy's definitely won me over.
Janette's view:
We really enjoyed our visit to Bad Jimmy's – we'd been meaning to go there for awhile, but hadn't been in the neighborhood until last night. The beers and the atmosphere really impressed us.
It's family-friendly until 7 pm, and dog-friendly all of the time. They even have dog treats at the counter for your furry family members. Outside food is welcome, and the table next to us had some really yummy-smelling food delivered to their table by a neighboring restaurant. Another nice thing is they are open later than most of the other breweries in the area, closing at 2 am on weekends.
The atmosphere is really well-thought out, I especially love the bar area, with the red spade on the end of the bar. They even took care with the bathrooms, with chalkboards and vintage finishes. It's the little things like this that make me think they take care with everything they do.
The beers. My favorites:
Imperial IPA – this was so smooth and carmel-y. It did not seem like a high-alcohol beer, it went down so easy. If we would have stayed longer, I think I would have gotten a pint of this.
India Red – I took a sip of this and thought "spice….wait…Belgian?" Since I like both Reds and Belgian styles, I really liked this one as well.
Blood Orange Honey Wheat Ale – the subtle blood orange taste at the beginning got me. I loved how it morphed into a honey taste, then the wheat ale taste. Would be great for a summer BBQ or just enjoying in the Seattle sunshine.
While enjoying the beer flight, we met a great couple from Calgary, Alberta, who were visiting Seattle and wanted to try the local beer scene. They actually met at the Calgary Beer Festival in 2013, and were celebrating their one year anniversary. We had a great time talking about (Ray's edit: aboot?) beers and poking fun at the differences between Canadians and Americans. (And guys, you're always welcome at our house for dinner. 

)