Tucked into a neighborhood in Ballard is Stoup Brewing, a small brewery and tasting room. We visited it on a recent sunny weekend.
In the 6 months or so it's been open, it looks to have turned into a neighborhood hangout. The tasting room was packed with young people, old people, dogs, kids; there was even a child's birthday party going on. Everyone seemed to be enjoying themselves (with the exception of a small disagreement between two dogs with very apologetic owners).
The sun was out, and the doors were opened up to take advantage of the warm weather. They have a rotating food truck out on Fridays, Saturdays, and Sundays.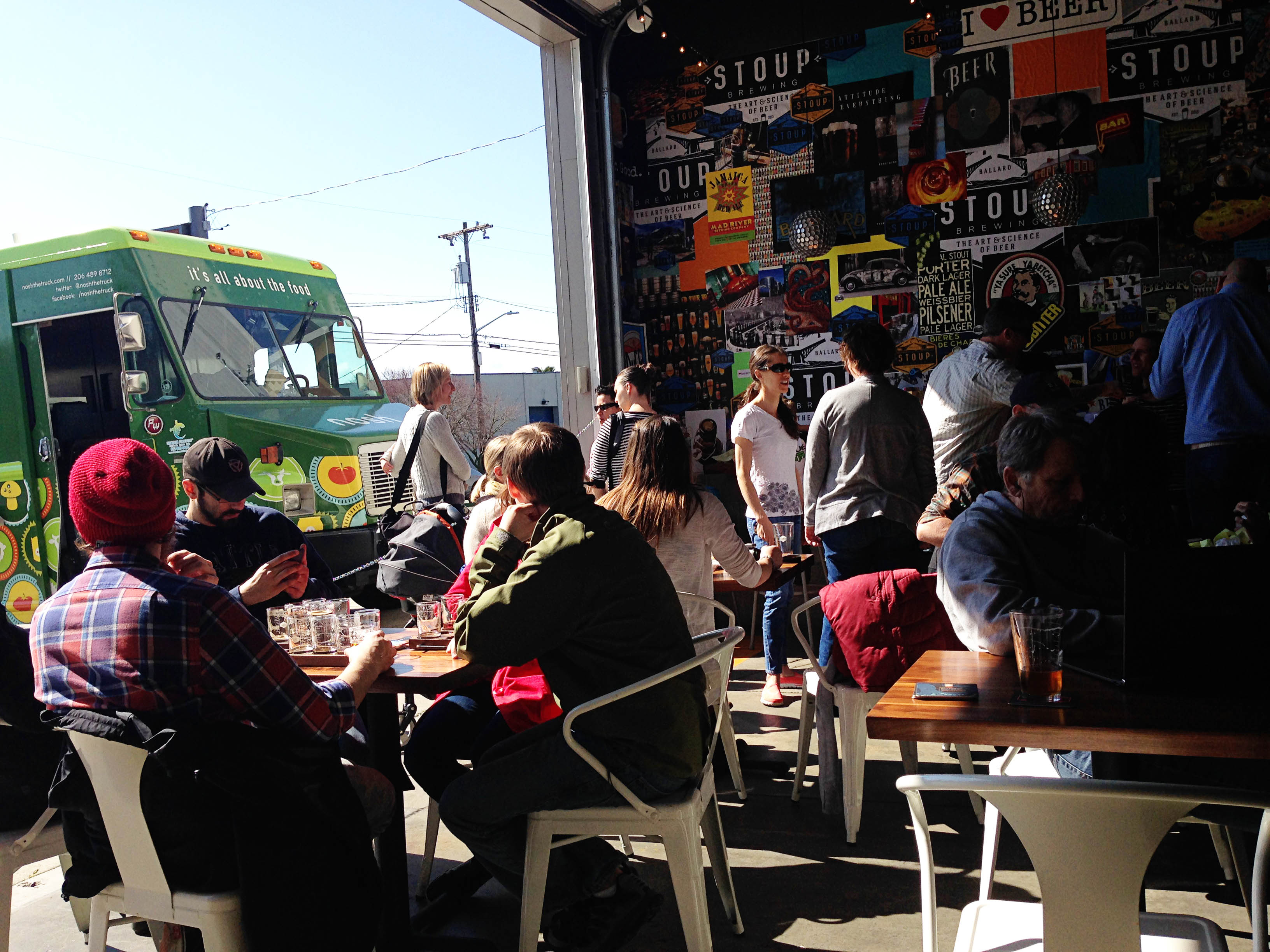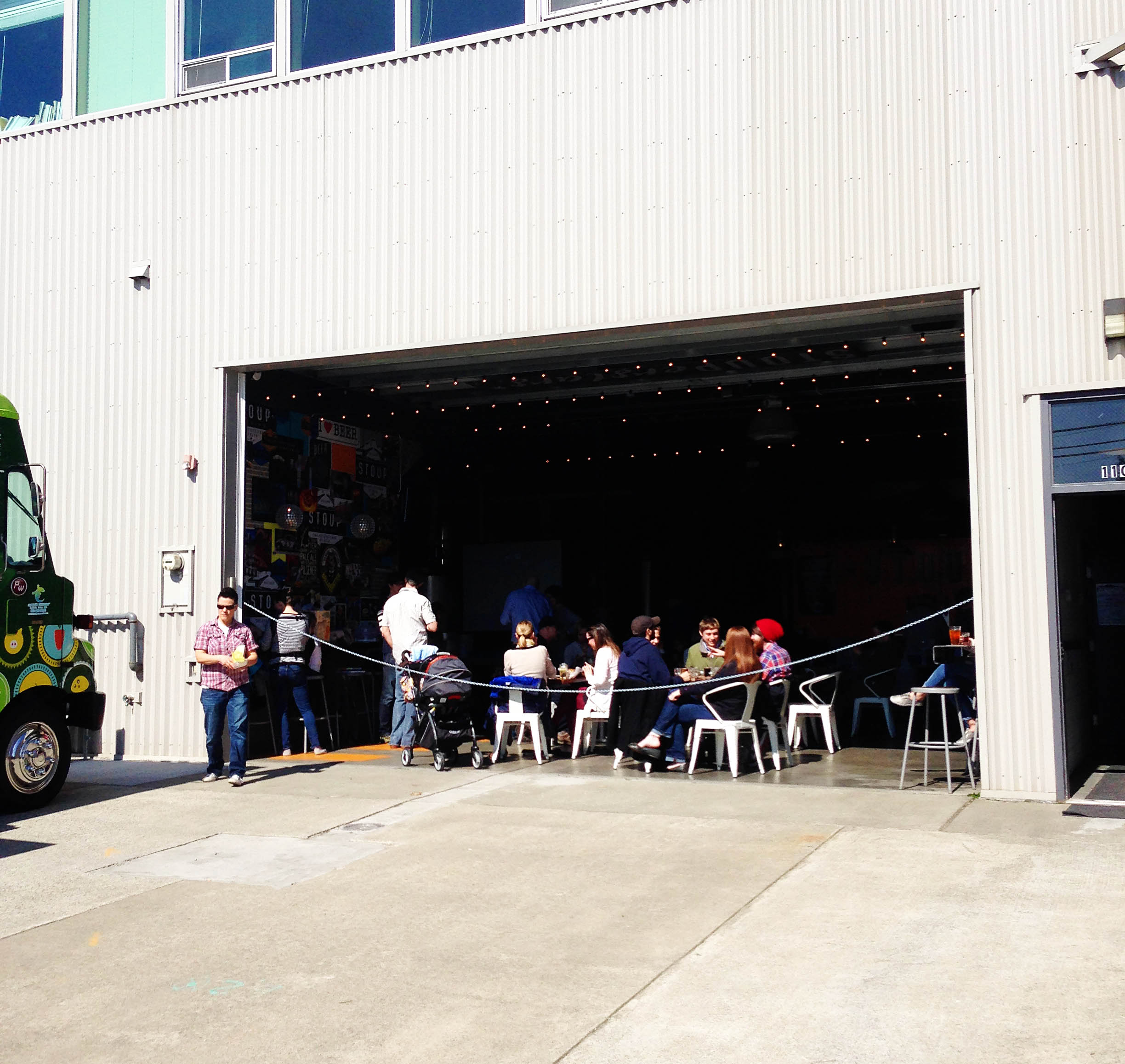 We tried a flight of 6 of their beers: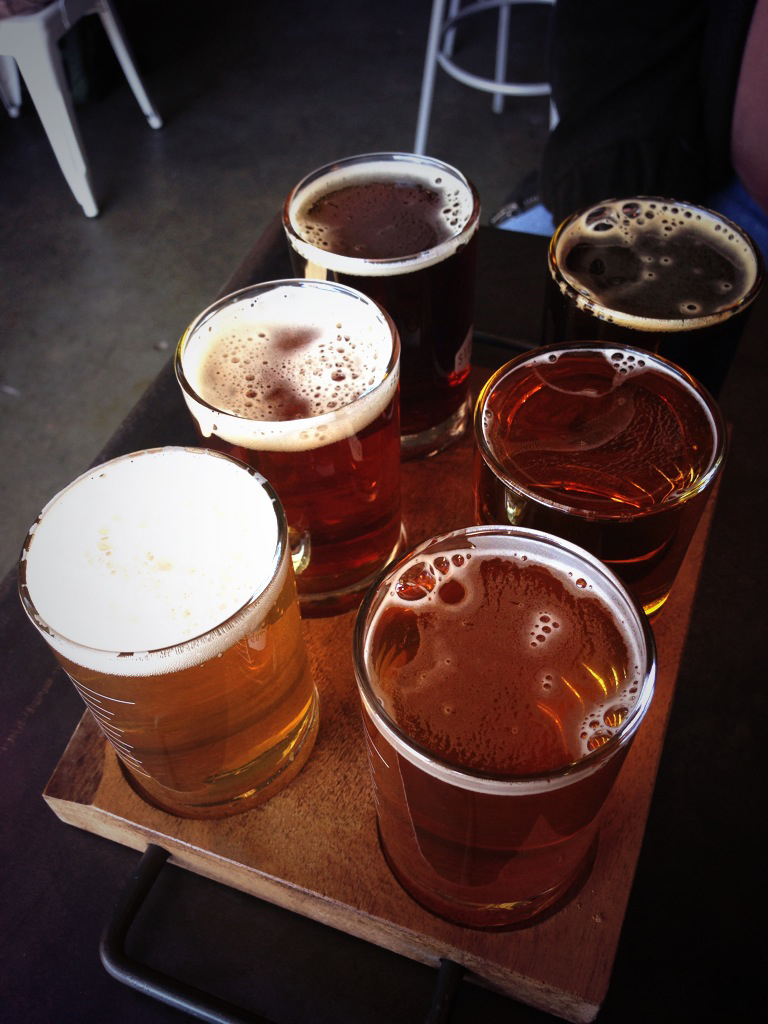 (Lower left and up)
ISA – a session ale, 5% ABV
Mk Special Bitter – 5.3% ABV
NW Red – a red ale, 5.5% ABV
(Lower right and up)
IPA – 7.5% ABV
T2R Haymaker III IPA – a Triple IPA, 10.5% ABV
Robust Porter – 6.2% ABV
My favorites were the T2R Haymaker III IPA, which I noted as having a "hoppy alcohol taste", and the NW Red, which I noted as having a "hoppy finish". Most of the beers were hoppy, with the exception of the porter, which had a nice coffee aroma and taste.
With the motto of "the art and the science of beer", Stoup Brewing has seemed to put a lot of effort into their brews. I wouldn't say they would count among my favorite beers (yet), but I'm looking forward to seeing what they will come up with in the future.
Ray's View:
For the most part, I concur with just about everything Janette said. Their best beer was easily the T2R Haymaker III IPA. It was quite fragrant, had a very cool "slipperiness" in my mouth, and while the alcohol finish was quite noticeable, it was not harsh or biting. The Robust Porter was tasty, but it struck me as slightly over-carbonated and bit my tongue a little. The ISA, NW Red and mk Special Bitter were very different styles, but they all clearly had something in common. It was like spotting a blonde, a redhead and a brunette sitting at a table together and seeing enough similarities between them to make you suspect that they are sisters. There is usually nothing wrong with tasting similarities between different beers at a brewery, but in this case it stood out more than usual.
I spoke a bit with the gentleman pouring the beers that afternoon, and I got the feel from him that they are still "tweaking" some of their recipes. I totally respect that, and I would even go so far as to agree that several of them would probably benefit from some adjustment (the carbonation on the Porter, and the overall similarity of the ISA, Red and Bitter, for example). While Stoup is not on my list of favorites right now, they are nowhere near the bottom of my list either. I am confident that they have the passion and knowledge it takes to continuously improve.
Stoup Brewing is in a great location, has a very strong neighborhood following, and clearly knows what they are doing. I look forward to returning in several months and giving them another shot!