We had a decision to make at Safeway when grabbing this beer: Do we buy the 22 ounce bomber, or should we get a 6-pack of 12 ounce bottles? We don't always make the correct decision in those situations, but we sure as hell did this time. (Spoiler Alert: We got the 6-pack)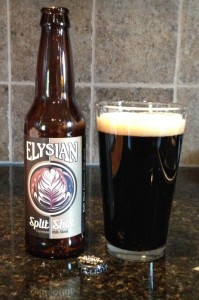 Unlike my experience with the Mens Room Black, the sheer happiness I felt after drinking this beer was much more in line with what I have come to expect from the folks at Elysian. This beer looked beautiful, smelled beautiful, felt beautiful, and perhaps most importantly, tasted beautiful. Stouts often have a bit of a coffee smell or taste to them that comes from how the malt is roasted, but this brew actually incorporates coffee from Stumptown Coffee to take it from the typical "Yeah, this kinda has a coffee note in the finish" to a full-on "Oh yeah, this is coffee for alcoholics". I guess it could also be considered beer for java junkies, but either way this is a very nice mash-up.
The term "mouth feel" always makes me feel a little dirty, but it is worth mentioning how Split Shot felt in my mouth. It felt wonderful. They seem to have dialed back the carbonation a bit, and it was a good move. It is quite smooth, does not have any of the "bite" that too much carbonation can bring, and it goes down very easily. Hell, I drank three bottles of it while doing "research" for this post, and I am merely "coffee-tolerant". If you like beer but LOVE coffee, I can hardly begin to imagine how much you will enjoy Elysian's Split Shot Espresso Milk Stout. Be sure to go out and grab some while the grabbing is good, as this is a Spring seasonal.
This one rates 4.5 caps for me in Untappd, which is pretty close to perfection.
Janette's View: Well, I love beer AND coffee, so I really enjoyed this. I'll take credit for choosing the 6 pack, and call dibs on the last one in the fridge.
My tasting notes say "Dark color, thick foamy head, faint coffee aroma. Creamy espresso taste." I think my actual words after tasting this was "oh yeah, this one is yum". ("Yum" is a technical beer term.)
If someone handed me a mug of this in the morning, I might just think I let my coffee get cold – it's that smooth. Overall, very impressed with Elysian's Split Shot.