The sixth Seattle Beer Week will be upon us soon, and the commemorative brew put together for it this year is a joint effort of six different Seattle area breweries called Six Degrees of Collaboration.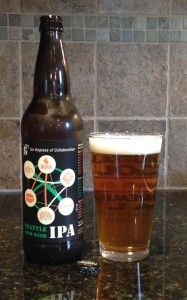 Everything about this beer revolves around the number "6": Six breweries, six hops, six yeasts, six malts, six percent ABV…you get the idea. We are eagerly anticipating attending our first Seattle Beer Week, so we picked up a bottle to review in advance of the event. It poured with a thick, creamy head that was more full than I am accustomed to seeing from an IPA. The smell was quite reminiscent of Elysian Brewing's Immortal IPA, one of my favorite beers of any style. So far, so good. Pine was the flavor that stood out the most to me in the hop profile, and it had a pleasantly bitter finish without an overpowering aftertaste. Despite these positive points, something was definitely missing. Or maybe too many things were included.
My honest assessment of Six Degrees of Collaboration is that it tastes, well, like a collaboration. Sometimes collaborations exceed what the individual contributors could achieve, but this was not the case here. Instead of getting something memorable like Paul McCartney and Stevie Wonder's "Ebony and Ivory", we are left with something altogether average put together by six great breweries. I think this might be a "too many cooks spoil the broth" issue. This apparent compromise and ambiguity doesn't make it a "bad" beer, though. It does, however, prevent it from being a "great" beer. Simply put, every one of the breweries involved in producing this beer regularly makes beers better than this on their own.
Lots of effort went into getting as many sixes as possible into this beer. Unfortunately, I'm not a big fan. I can enjoy it for the marketing tool that it is, but I don't think I will buy another. This brew merits 3 caps for me in Untappd.
Janette's View:
While every week is beer week here at Two Brew Review, we've been looking forward to the events at our first Seattle Beer Week next month. Seattle has so many world class breweries. It will be amazing to go to the different events at venues that really appreciate and celebrate beers.
I love the thought of six different breweries (and some of our favorite breweries!) getting together to make one brew.
To me, the aroma of The Six Degrees of Collaboration reminded me of the Immortal by the Elysian (one of my favorite beers of all time).
Tasting it, I could first taste a hint of the Immortal, then a slight peppery spice, and an almost flowery aftertaste. It was very complex.
I'm not sure it actually qualifies as a "sessionable" ale, with its 6% ABV, which seems to be a little high for that label. I've always thought of sessionable ales to be under 4% (although I can understand the significance of the "6" in this beer).
Although I'm not totally thrilled with it out of the bottle, I'm certainly looking forward to trying it straight out of the keg at Seattle Beer Week.