The Saint Florian IPA is brewed by Silver City Brewing in Bremerton, Washington. Saint Florian is the Patron Saint of Firefighters, and a portion of the Saint Florian IPA's proceeds will go to a Washington State Council of Firefighters benevolent fund.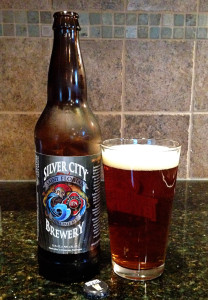 Saint Florian is an IPA using Washington-grown Cascade and Columbus hops. Despite being 6.8% ABV, it seems light and crisp to me.  It's not a big hoppy IPA, but instead is lightly citrusy with an amber coppery color. Very pleasant and drinkable.
I like that It's not a hop-head IPA, but it still has well-balanced flavor with an IPA profile. It definitely has a place in the IPA world.
I'd recommend picking up a bottle of this. An added bonus is supporting Washington firefighters and their families.
Ray's View:
It has been a few hours between when I tasted this and now, and I don't have any strong memories about it that are clamoring to work their way onto this web page.  It was not overly fragrant, nor was it excessively hoppy.  For that matter, it clearly wasn't very memorable either.  Overall, this felt like a very bland IPA.  Not bad beer, once again, just not to my taste.
Silver City Brewing is definitely on my "short list" of breweries that I want to visit to taste their offerings in person, and I know I will find something there that will impress me more than their Saint Florian IPA.
Three caps on Untappd is all I can muster here.