Taking a break from our usual IPAs, Stouts, and Porters, we tried the Midas Touch Ancient Ale from Dogfish Head Brewery. A friend had recommended this awhile ago (thanks, Steve!), but we had not been able to find it until this weekend, when we found a 4-pack at our local Total Wine & More.
According to the Dogfish Head Brewery website, Midas Touch is a brew made from ingredients found in 2,700 year old drinking vessels believed to be from the tomb of King Midas. It's somewhere between a wine, a mead, and a beer. Saffron acts as a bittering agent instead of hops.
Dogfish Head Brewery is known for its unusual beers using non-traditional ingredients and for generally being passionate and creative. Their Ancient Ale series is based on chemical analysis of ingredients from ancient pottery fragments, thousands-year old recipes (one from hieroglyphics), and an array of bittering agents such as saffron, gentian root, and Ethiopian myrrh resin.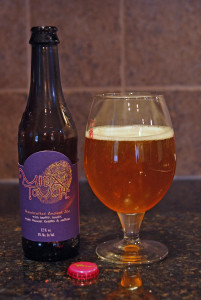 Midas Touch is a lovely light golden color, which we poured into a tulip glass. It was smooth, silky, and tasted and smelled of honey. As it warmed up, it introduced more of the complex flavor of the grapes and saffron.
I've tasted mead before, and this was close to the mead I've had, but not as strong or heavy. No alcohol burn, even at 9% ABV.
This was also very good with curry – Panang beef as well as Red Curry chicken (taste tested for science).
Ray's View:
As Janette noted, the folks at Dogfish Head are known for their unusual brews. I would say this one qualifies nicely for that label. They call it an "Ancient Ale", but that doesn't really describe it very well. Something brewed with barley, honey and grapes could be called a "Beermeadwine", but that does not roll off the tongue as easily. Perhaps "Ancient Ale" is the better choice here.
My initial reaction to Midas Touch was that I didn't really care for it. Halfway into the glass, however, things started to change. Perhaps that was the point at which I stopped expecting it to taste like "beer" (because believe me it does NOT taste like beer) and just started judging and enjoying it on its own merits. It is a very complex beverage, but the honey/mead aspect of it is definitely out front and noticeable. The flavors did expand a bit as it warmed up, but the honey was always present.
I think it is amazing that Janette and I concur so much on this one. The only difference is that she liked it immediately, whereas I only liked it once I stopped thinking of it as beer. I, too, was surprised at how mellow it was despite the 9% ABV. Usually there is *some* alcohol burn taking place at that level, but there was none here. Also, I did not try it with the curry, but it actually paired quite well with the Split Pea Ham Bone soup I made. Dogfish Head mentions how this beverage is a good choice with food, and I would tend to agree that anything that can pair well with both red curry and pea soup must be doing something right in that department.
All in all, this was a delightful drink that I can recommend sipping with just about any rich meal. I can hardly wait to try it with a steak off the grill this summer! I rated this at 4.5 caps on Untappd. (Which is the same rating Janette gave it, just to again show how similar our views are on this one.)