We picked up a bottle of Leipziger Gose by Bayerischer Bahnhof because it caught Ray's eye. We were intrigued by a salt beer and hadn't tried anything in this style before.
According to the German Beer Institute, Gose (pronounced "Gose-uh"). is a style of beer that originated in Leipzig, Germany. It's made from more than half malted wheat and the rest malted barley, and is brewed with salted water.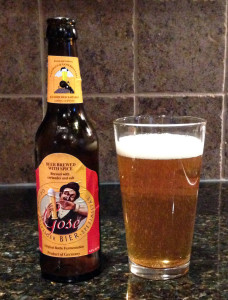 It's a nice golden color, a bit hazy. Slightly tart aroma. Crisp citrus taste with salt on the finish.
I was wishing we had a bigger bottle on this one, since I really enjoyed it! It was a nice, light, refreshingly crisp beer that I can see would go well with a lot of different foods.
Ray's View:
Ah yes, another beer that caught my eye and piqued my curiosity. We haven't had the best of luck with those, but this one was different. Straight from the bottle this smelled salty to me. My first sip also registered as salty. "What the hell am I drinking" was one of my first thoughts. Then I took another sip. This time I noticed an almost lemony flavor hiding behind the salt. By the third sip, I could hardly notice the saltiness anymore and started to genuinely enjoy this beer. It is definitely different than any other I have ever tasted, but it was different in a good way.
Here's an odd side note: I made a batch of Kraft Macaroni & Cheese using some well-past-expired Half-and-Half instead of milk (which is amazing on its own, by the way), and this beer complemented it quite nicely. It was a pleasant surprise, for sure.
This is not a beer I will actively seek out again, but it has opened my eyes to this style and I will not shy away from trying others like it in the future.