The full name of this self-deprecating brew is "Lagunitas Sucks Brown Shugga' Substitute Ale", and that just begs the question "What the hell is a 'Substitute Ale'?" The short answer is "It is an IPA". The longer answer is much more interesting. In a nutshell, back in 2011 they miscalculated their production capabilities and were unable to brew a seasonal favorite called "Brown Shugga". In what must have been a preemptive strike, Lagunitas lashed out at themselves for this shortcoming before their loyal fans could do so. Naming this ale "Sucks" was really only the tip of the iceberg. Beer Street Journal has an archived image of the original label, and it is really worth taking the time to read. Seriously. Go read it. Then come back and make the jump to the rest of this review.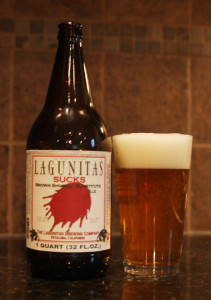 If there is one thing I appreciate in this world even more than a good beer, it would have to be a great sense of humor. Lagunitas clearly has that. Luckily for me, they also make some good beer. Lagunitas Sucks made and impression on me from the first pour. The color and clarity surprised me a little, as it looked like a Pilsner or a Lager. Seeing something this clear and light golden yellow was a little disconcerting. "This is not what an IPA should look like", I thought. Then again, my image of IPAs is flavored strongly by unfiltered beers.
It forms an impressive white head that is very long-lasting. In fact, some of the head lasted all the way to the bottom of the glass. Smell was a vital component of my enjoyment of this beer, so that scent-dispensing head was a good thing. I'm not gifted at describing smells, especially subtle nuances of smells, but Sucks has a distinctly "pine-ey" aroma.
Hopefully Janette has some specifics about how it tastes, as the things I remember the most about this beer are that it was not heavily carbonated, that I enjoyed the fact that it was rather light-bodied, and that it went down quite easily. I was very happy this was a full quart rather than a 22 ounce bottle, that is for sure. I would definitely drink this again, based on the wonderful smell alone. Four caps on Untappd.
Janette's View:
One thing that is interesting to me about this beer, is that the Brown Shugga' ale that it replaced was itself a happy accident caused by the brewery trying to save a failing batch by adding large amounts of brown sugar to the brew.
Tasting Lagunitas Sucks surprised me; I didn't realize it was an IPA until I read the label to start my tasting notes. It was effervescent, pale yellow, with a long lasting off-white head.
It had a slightly sweet, citrus/grapefruit taste. As Ray said, the long lasting head really contributed to the flavor. It added to the experience to sniff the lovely floral-y citrus with each sip. It was clean, not harsh, not intensely hoppy. I didn't experience much of an alcohol aftertaste, but there was a slight burn finish. Well-balanced.
In all, it seems like a fortunate mistake that came to brew this beer. Lagunitas definitely does not suck, and neither does this beer.