We headed out to Buckley to the Elk Head Brewing Company last weekend, as one our friends recommended the Elk Head Brewery as a must-visit. As I understand it, they've been brewing since the early '90's, and have been in their location for 10 years.
The brewery is located in an industrial park off of Highway 410. The Yelp directions told us to turn off the highway, but you should stay on the highway until you come to the address. It's a little hard to find, but worth the search.
As you walk inside, you're greeted by an amazing collection of growlers suspended from the ceiling, and of course, the beer taps (cue a light shining down and an angel chorus singing "Ahhhhhhh!").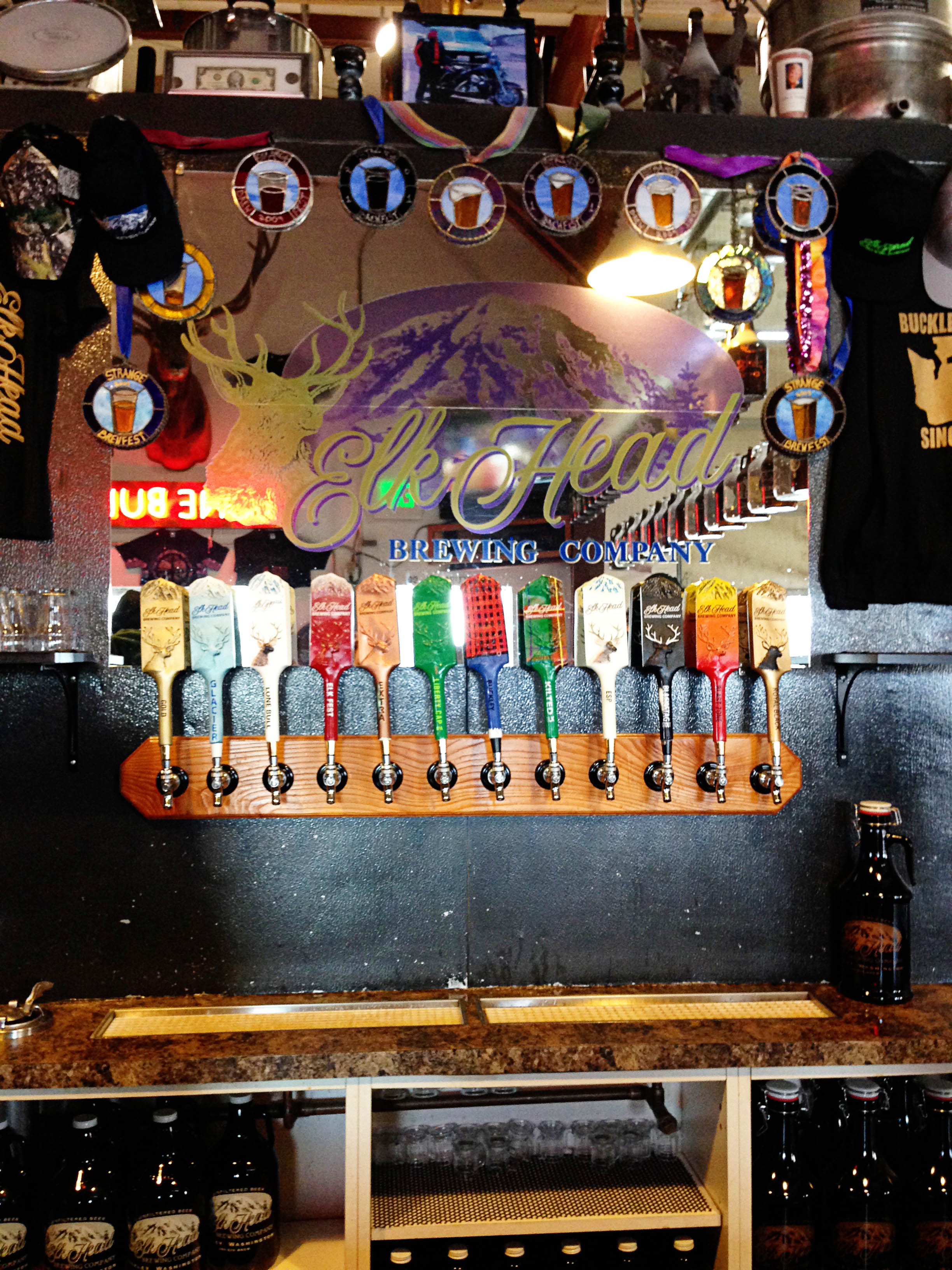 Elk Head had twelve beers on tap that day –
Gold, a golden ale
Glacier, a pale ale
Lone Bull, an IPA
Elk Fest, a Harvest ale
Extra, an amber/red
Liberty Cap, an IPA
Buckley, an amber/red
Kilted Elk, a Scottish ale
ESP, a porter
Black Stag, a stout
Blast Zone, a Chili beer
Royal Black, a stout
We tried several of their brews. They didn't have any flights, but they will give you any taste you wanted in a mini 2 oz beer stein, and we tasted quite a few. Between the four of us, we ended up getting several pints – the Extra, the Glacier, a couple of the ESPs, and the Elk Fest.
Every brew we tasted was enjoyable, drinkable, and solid. We liked every brew we tried. We were with friends, so we visited more than we took notes, but I remember that the Elk Fest and the Extra were favorites.
We enjoyed the pints in their tasting room, which is a large space with a long table and several small ones. Beer ephemera is everywhere, as are samples by local artisans. We felt comfortable and were able to enjoy our beers in a relaxing atmosphere.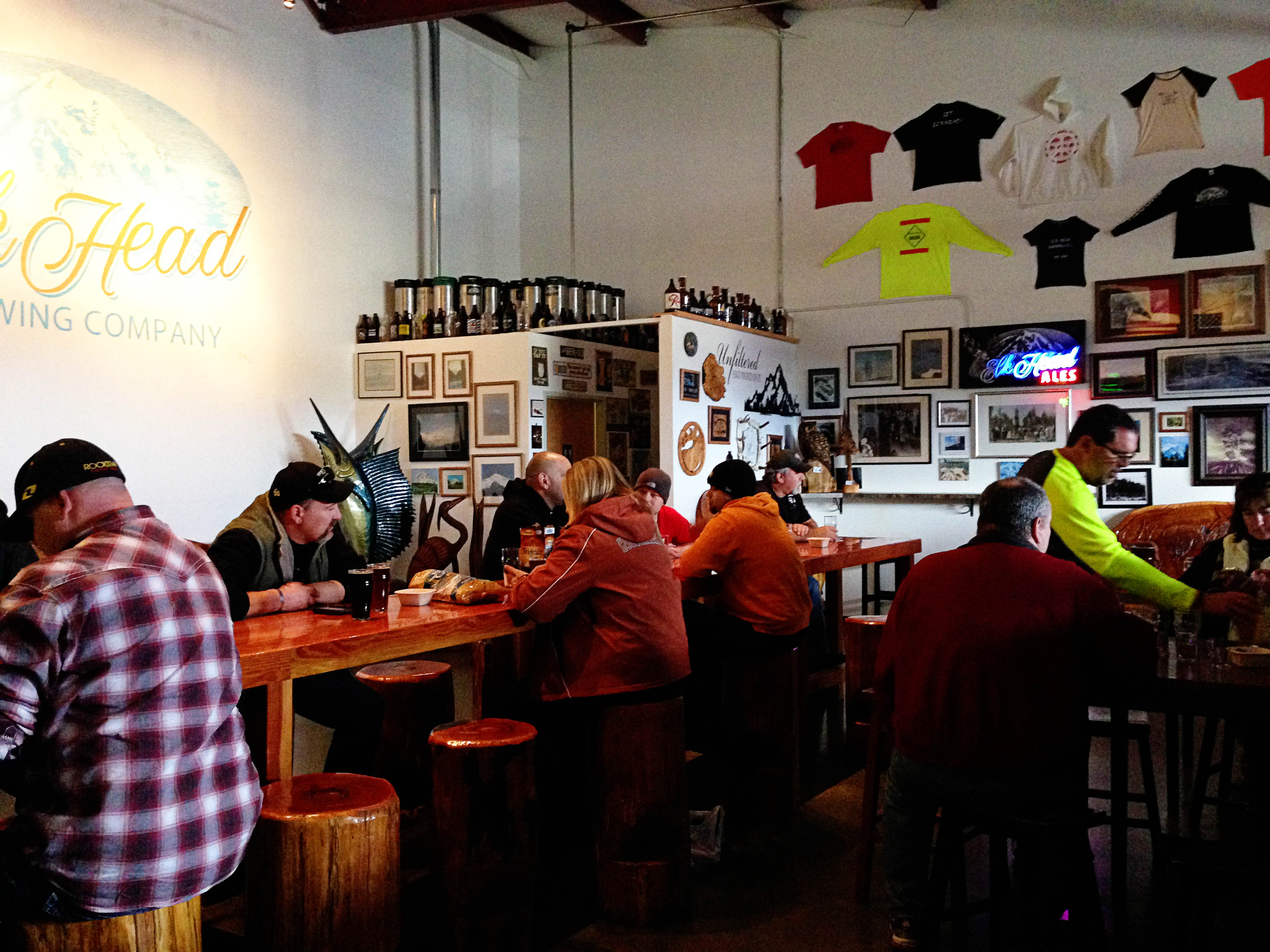 Overall, it's definitely worth a visit to the Elk Head Brewery. We left with a growler full of the porter, which we enjoyed for a couple of days. I understand that they also have a tap room in Ocean Shores, Washington. I suddenly feel the need for a trip to the coast…
Ray's Views:
This place was awesome, and it was everything one might stereotypically expect to see in small-town, rural Washington. Right down to the burly guy standing with some of his buddies, beer in hand, totally rocking the "I like girls who like girls" t-shirt. I didn't feel at home, necessarily, but I did not feel out of place either.
As Janette noted, the absence of a flight option paired with hanging out with friends put doing a formal review of their beers just out of reach. Sometimes it is probably better to just enjoy the beer and one's friends anyway, right? Every beer we tasted was solid and seemed to be made from a mature recipe. The Porter was particularly well-made, and it held up quite well until Monday night despite getting it filled on Saturday afternoon. I'm not sure any other style would have fared so well, but we definitely lucked out on this one. Another standout was the Elk Fest Harvest Ale, which I suspect could have been classified as "Barley Wine". It was sweet to the taste and had a nice alcohol finish. If I hadn't already picked up a growler of the Porter, we surely would have ended up with 64 ounces of this one instead. The last beer I will mention is Blast Zone, their chili beer. I have tasted several of these before, and they are generally very bland on one extreme or too hot to drink on the other. This one was a surprise, as it was actually pleasantly hot from the peppers but not so hot that you couldn't still tell that you were drinking a beer. A pint might be a bit much of this one, but be sure to at least give it a taste…maybe after
You won't find these folks on the web, Instagram, Pinterest or Twitter. It just isn't their style. There is a page on Facebook for them, but it is quite minimalist. I suspect this is completely on purpose, too. They seem to have very little need for or interest in actively marketing their brand. It works for them, as the locals clearly have absolutely no problem finding the place. It was hard enough to find somewhere for the five of us to sit without any marketing, why would they actively try to draw in hipsters and suburbanites? They are clearly geared towards serving their Buckley, Bonney Lake and Enumclaw neighbors.
If you find yourself passing through Buckley on your way up to or on your way back from Mt. Rainier on WA-410, consider stopping in and sampling Elk Head Brewery's wares.