Janette and I recently stopped by Two Beers Brewing Co.'s tasting room The Woods after work. It is on our way home, and we find an excuse to stop there at least once every other week. On this visit I spotted two experimental brews on their chalkboard that I hadn't tried before, so I ordered a sample of Experimental Pale and a pint of IPA X2. Scientists assert that the only failed experiment is one where no data points are collected, so I sat down with my beers to collect a few data points.
First up, the Experimental Pale. True to the name "pale", this one was very light yellow in color. It smelled slightly acrid, but not so much so as to be off-putting or offensive to the olfactory. I only had a small taster of this, and hindsight being what it is, I should have grabbed a pint of this instead of the IPA X2. It was very light on the tongue, did not leave much of an aftertaste, and with a relatively low ABV (5.5%), went down easy. It wasn't as hoppy as most Pales I have tasted, either. I had a hard time placing the taste, but it genuinely tasted like an appropriately-hopped Pabst Blue Ribbon. Before you laugh, know that I mean this as a compliment. PBR has its place in this world, and a slightly hoppier version of it would definitely have a place in my world. Although I only had an ounce or two of this, I know I will be going back for more soon. This was very drinkable, and I rated it with 4 caps on Untappd.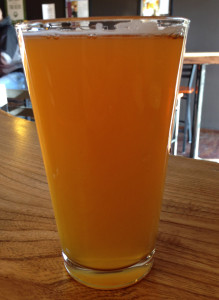 Once the Experimental Pale was gone, I moved on to the IPA X2 (pictured above). I kid you not, this is the gist of the conversation Janette and I had regarding this aroma of this beer:
Me, lifting the glass to my nose: It smells pretty; I want to kiss it.

Janette, upon doing the same: It smells like toilets.

Me: What? Seriously?

Janette: Let me try again. (Sniffs) Yup. Toilets.
Hopefully our friends at Two Beers don't get mad at us for that last bit, as it was just too damn funny to not post. You know we love you, so just look at it as us living up to your motto "Life is just a little more honest after two beers". That said, prepare for some more honesty…
Back to the aroma. I found it to have a pleasant floral hop smell with perhaps a touch of Simcoe in there. I seriously just wanted to sit there and sniff it rather than drink it. Ultimately, I had to drink it though. When I did, I noted that the hop flavor was quite assertive. In this case, "assertive" translates to "just shy of aggressive". It had a persistent "roof of your mouth" aftertaste, but it was not offensive. I didn't care for it very much initially, but it got better as the glass got emptier. I'm not sure whether to ascribe this to the hop profile opening up and making the beer more flavorful as it warmed, or to anticipation of almost finished. It really could go either way there, and I'm not going to think on it too much more. I've already decided that I won't be having any more of this one. Other than the lovely scent, this brew did not impress me. The hops that smelled so nice together somehow did not play nice together in my mouth. The hops were just wrong somehow. That said, I rated it with 3 caps on Untappd, which puts it at the high end of "I do not want another pint".
We then opted to get our growler filled with their Forester Double IPA and head home. It was another successful trip to The Woods even if I didn't like all of the data points I collected.
Janette's View:  I was stoked to see some beers on the brew board that I hadn't tried yet. I pilfered some of Ray's taster of the Experimental Pale, and really enjoyed it. I wish we could have picked up a growler of it, as it's a nice-bodied beer and I wonder how it would taste with curry… I'm hoping this brew will be added as a regular at Two Beers.
The IPA X2 had a strong, sharp, perfume-y, yet antiseptic aroma to me. I initially ascribed it to the aroma after you disinfect your bathroom (and I knew describing it so would make Ray laugh). The X2 has a strong taste, very pungent and bite-y. It grew on me, as I liked it better the longer it sat. I think I ended up downing almost half of Ray's pint, all told.