One of the breweries we visited on our January trip to California was completely unknown and new to us. We only knew of The Bruery as the place we might be able to try a brew named "Chocolate Rain", an 18+% ABV beast of an Imperial/Double Stout that I spotted on Untappd a couple days earlier. Despite our ignorance of it, The Bruery is apparently a Really Big Deal in some beer circles.
We had spent the whole day driving south from Weed, OR, when we pulled up to their location in Placentia, CA. I'm not sure if it was some kind of omen, or if all of Southern California looks like this at dusk, but pulling up to The Bruery felt like we would soon be livin' it up at the Hotel California.
Ordinarily a "Hotel California vibe" would be a bona fide reason to get the heck out of there, but we were tired and thirsty enough to push through the temptation to turn around and leave. I am very glad we stayed.
Upon entering their tap room, it struck me that they were quite busy for 5:30 on a Sunday afternoon. The space can probably hold 80 people comfortably, and we had to stake claim to a couple chairs and a barrel upon entering for fear of not having a place to sit if we went through the beer line first. That potential disaster averted, we turned our attention to the beer list.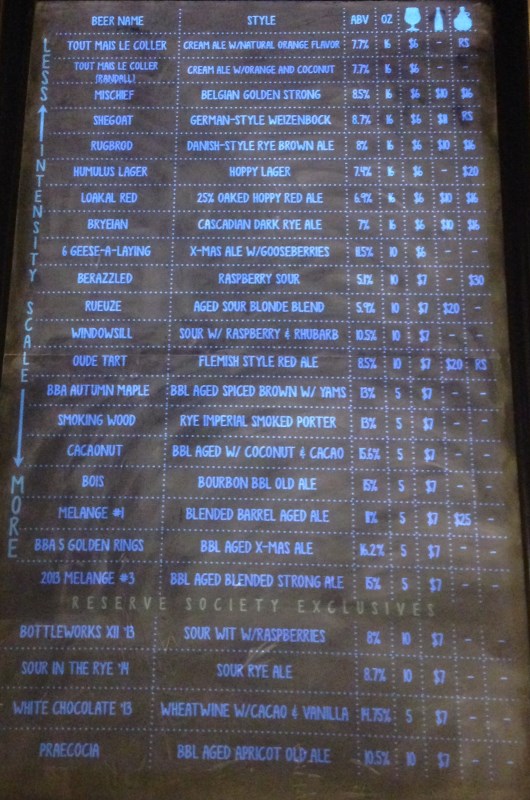 That is 24 different taps. It was almost a relief that 4 of them were only available to members of their Reserve Society, an annual club you can buy into that has many benefits, including guaranteed availability of some of their very small batch brews. If I had to guess, the Reserve Society consists mostly of people who can check out any time they like, but who may never leave.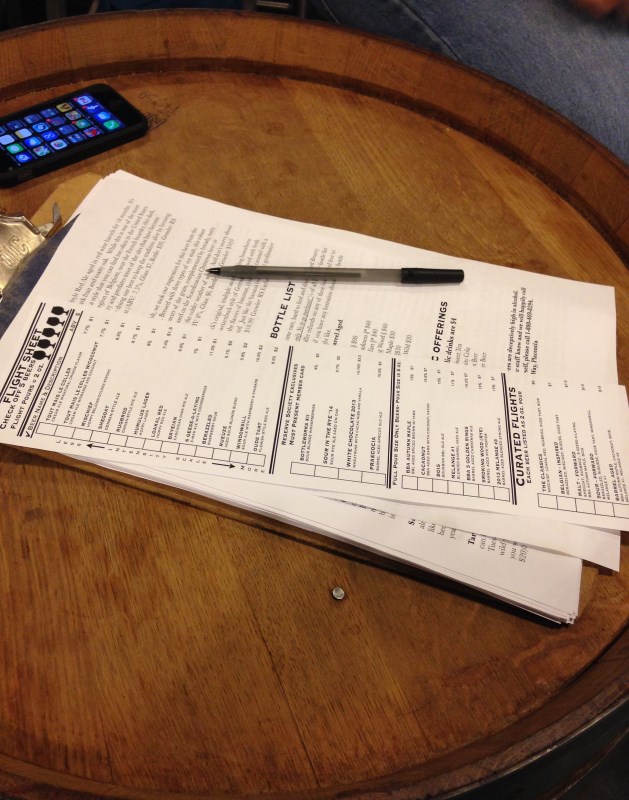 They keep this otherwise-daunting list manageable by providing visitors with clipboards, pens and a clever "flight sheet" that one can use to select five of their offerings to be served up in 2 ounce pours. Yes, 2 ounce pours. While they do have some offerings in the 6% ABV range, The Bruery specializes in stronger brews that start in the 8% range and regularly top 15%. Trust me, you don't want a pint of most of these. Oh, and to further simplify things, the flight sheet has five different "curated flights" that the staff has pre-selected based on certain styles (their classics, their sours, etc.). Just be careful to note which beers are on each list if you are planning on ordering multiple curated flights, as there is some overlap between them.
One of my first questions to the person taking our order was if there was any way to get our hands on some Chocolate Rain. She explained that it was only available in bottles, and even then the only stock they had left was being held for their Reserve Society members. Dejected but determined, we decided to start with two of their overlapping curated flights (How else would I know to warn you of this potential issue?).
As we sat there enjoying one truly remarkable brew after another, I started to get a better understanding why this place was so popular. This place not only puts out great beers, but also knows how to make patrons…even newbies from out of state…feel comfortable. Looking around the room, I noted that it was filled with quite a cross-section of humanity. There were people there who looked like they should be helping someone open a bank account, people who looked like they were lifted off of the set of Portlandia, and many other groups of people you would not otherwise expect to see in the same room together were represented as well. It was a beer-based melting pot, and that struck me as pretty damn cool.
As I alluded to above, the beers were amazing. Of the 13 (!!!) we sampled, not a one scored less than three caps in Untappd, and most were in the four caps range. Based on how I use their scale, anything at 3.5 caps or above means I would definitely drink them again if given the opportunity. They clearly devote a lot of creative energy into concocting their wares, and it shows in the finished products. Even beer styles I do not typically appreciate (Ambers, Reds, Pumpkin/Yam beers, I'm looking at you…) presented well at The Bruery. Their selection of sours was amazing, and I really wish some brewery here in the Seattle area would step up to fill that niche as Southern California is just too far to drive with any regularity.
When I was settling up our tab, I thanked our server for her hospitality and told her how much we enjoyed our visit even though we couldn't get our hands on any of the fabled Chocolate Rain. She laughed and graciously accepted the thanks. As I was turning to leave, she asked me to hold on for a moment. She must have sensed that I was truly bummed about the absence of any Chocolate Rain, because she presented us with a small sample of White Chocolate, one of their Reserve Society Exclusives. I cannot recall exactly what she said, but I remember it being along the lines of "I hope this helps make up for things." It was a very kind gesture, and it was greatly appreciated. The next time we are in the area, I am going to lobby hard to return to The Bruery.
Janette's View: Oh, what else can I say about The Bruery? I think that any lobbying that comes my way will be dealt with by the token "twist my arm" gesture.
I think this was my first encounter with sour beers that I liked. My favorite was the "Windowsill", a sour with raspberry and rhubarb. To me, it tasted more tart than sour. My notes said it tasted like someone had left a raspberry pie cooling in the window, and I think that's what they were going for. Very nice.
A few others were very much like dessert wines, like the Autumn Maple and the Bois, which were aged in bourbon barrels.
I was impressed with how many good brews they had on tap. Even the ones that I didn't personally care for (a couple of sours), were obviously well-made and popular.
After enjoying the flights, the extra white chocolate taste, and a platter from the food truck outside, we left with a bottle of the Bryeian (a Cascade Dark Rye ale) and Loakal Red (a Oaked Hoppy Red ale). When we're in the area again, we're sure to make time to visit.