In honor of Chocolate Week – we decided to try a chocolate stout. What goes better with chocolate than vanilla? So we also brought home a vanilla stout to go along with it, both in 22 oz. bottles.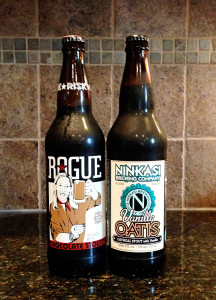 First up – the Rogue Chocolate Stout – ABV 6.3%.
According to Rogue, it's made with oats, chocolate malt, and real chocolate. It has a nice chocolate aroma, smooth and creamy, but tasted more like coffee than chocolate to me. It had more of a chocolate taste as it warmed up.
Then, the Ninkasi Vanilla Oatis – 7.2%.
I really enjoyed the Oatis when we tried it at the brewery in January. I was really looking forward to this version, which is flavored with real vanilla bean instead of just vanilla extract. What I tasted first was a very sharp taste that I attributed to the vanilla. As with the chocolate stout, it mellowed a bit as it warmed up, but there is still an almost astringent taste with more of a vanilla aftertaste.
In the interest of experimentation, I tried alternating tastes of the chocolate stout with the vanilla. I found that doing this brought out more of the chocolate taste of the Rogue brew.
Also experimenting, I combined a small amount of the chocolate stout with an equal amount of the vanilla. Combining them mellowed the sharp taste a bit, but combining them relegated the vanilla and chocolate to the background, with the sharper flavor taking over.
Unfortunately, we didn't have any vanilla ice cream, or this experiment would have gone further still.
Overall, I liked the Rogue Chocolate Stout as a nice solid stout, and was disappointed by the Ninkasi Vanilla Oatis. I'd actually like to see if I can find the Vanilla Oatis on tap to see if it's any different.
Ray's View: I hate to admit it, but I liked the Rogue Chocolate Stout better than the Ninkasi Vanilla Oatis. I really wanted to like the Ninkasi offering more, as I had previously enjoyed the "standard" version of Oatis, but it just wasn't in the cards. Don't get me wrong, the Chocolate Stout was not stellar; it was merely better than the Vanilla Oatis.
I agree wholeheartedly that the Chocolate Stout definitely smelled chocolatey, and that it tasted more like coffee than chocolate. It was tasty…just not the tasty I was led to believe I would be tasting based on the name. It was a nice beer, and I gave it three caps on Untappd, but it would have scored higher if I had not been expecting to taste more chocolate.
The Vanilla Oatis suffered a similar shortcoming: It had "vanilla" right there in the name, and I didn't taste vanilla at all. Now I know I have a strange set of taste buds (I'm one of those people for whom cilantro tastes like bitter soap), but I sincerely did not find anything vanilla-esque about this beer. Unlike the Chocolate Stout, I didn't find much else about it to be redeeming or tasty. I just don't understand how this could have possibly been related to the original Oatis and taste the way it tasted. I'm choosing to believe that this was just an "off" bottle, and will temper my review based on this assumption. Ninkasi is a better brewery than what I just tasted, and I can hardly wait to try another one of their delicious beers to help erase the memory of this unfortunate bottle.