We stopped by Machine House Brewery on Friday to finally try their wares. Janette will be writing a review of the brewery itself later, but I am writing a review of their seasonal Oatmeal Stout right now.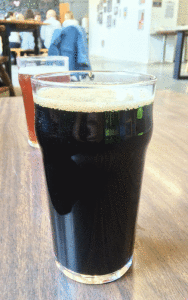 This brew weighs in at 6% ABV and is very dark in color. It did not pour with much of a head, but this is typical for beer served this way. It was served in typical British cask style (i.e., at room temperature in a 20-ounce pint glass), and while I am not necessarily a fan of "warm" beer, the trade-off meant having 4 more ounces than one gets in an American pint. Seemed fair to me.
Beyond the extra volume, this brew smelled glorious. The mainstay stout smell of coffee was present, but I also caught a slight whiff of black liquorice. (The smell may have been in large part due to the serving temperature, as I am drinking a glass at home now that was poured from the growler we kept in the fridge overnight. It still smells quite appealing, but the scent is not as intense and I no longer detect any trace of liquorice.) Once I stopped sniffing and decided to actually start drinking, it became apparent that this was a really good beer.
I'm having a hard time describing the taste beyond what one would expect, but it felt very smooth in the mouth and left behind a very mellow coffee-like aftertaste. The more I think about it, the more I think this is simply everything I want in an everyday Oatmeal Stout. It isn't stunning, but it doesn't leave me wanting, either. We liked it enough to take home a growler of it, and I am enjoying it now cold in my American pint glass every bit as much as I did yesterday warm in a British pint glass. "Delicious and versatile"…let's run with that, shall we?
Janette's View: My tasting notes say "So good". I didn't sense any licorice in the initial aroma, but I thought it was lovely. After tasting their seasonal pale ale, it was different, but nice to fall into this coffee-chocolately goodness.
Definitely a good stout, with good flavor and body. I'm looking forward to seeing what other brews they'll come up with.