Machine House Brewery is located in historic Georgetown, right off of Airport Way, in Seattle. They're located in the former home of the Seattle Brewing & Malting Company. The brick building, a Seattle landmark, was built in 1901 and formerly housed Rainier in the first part of the 20th century.
There's a bit of construction in the neighborhood at the moment, but the signs out front should show you the way. They're currently open Wednesday – Sunday. Kids are welcome.
Inside, it's a large open space with a plenty of seating. There's a couch and some small tables on one side, and a few big tables and a giant chalkboard (great for proclaiming your love for beer!) on the other. Art decorates all of the walls. It's a cool place to hang out and drink beer and visit with friends and strangers (and maybe even a puppy!)

We stopped by in the daylight, but I bet it's pretty inside once the sun goes down and the fairy lights go on.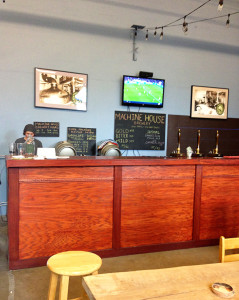 They brew small batch, traditional English-style ales. We tasted all of their regular brews plus two seasonal brews.
Their regular brews are the three below.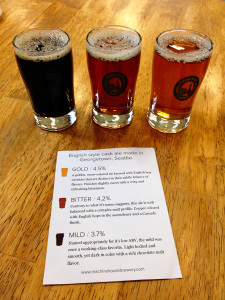 Best Bitter – a hoppy, copper-colored ale, 4.2% ABV
Gold – a bit bitter, golden color, 4.5% ABV
Dark Mild – mild, chocolatey, dark color (and my favorite of the three) 3.7% ABV
Overall, a nice experience in a casual atmosphere. I feel like it would be a good place to stop in after work, meet some friends, get a couple of brews and enjoy beer and talk for a few hours. We're sure to stop in again soon.
Ray's Thoughts: The signage they put up makes it very easy to find despite the construction adjacent to…hell, all around…the place. The casual surroundings felt very welcoming. You can't really see the very high ceilings in any of our photos, but this is a large historic space. There were a few tables, a couch, a couple small bookshelves with games to play, and what appeared to be a growing collection of art on the walls. The bar was not nearly as ornate or "busy" as many I have seen, but I think that plays into the fact that they are not trying to be all things to all people. Where one might expect to see a large row of tap handles, what you see instead at Machine House is a small row of three beer engines to draw each of their three flagship beverages from casks. On the back bar one will find two older style aluminum (or is that aluminium?) pony kegs of their seasonal brews being poured by the power of gravity.
All in all, it was a cool hole in the wall kind of place in one of the coolest and most historic beer locations in Seattle. I will definitely be back. Probably soon.