My main goal of the day was to secure a membership on Two Beers Brewing's mug club for us, so I wasn't really planning on doing any beer reviews today. Once the membership was secured, however, the first beer to grace the new mug was a brew they have named "Day Hike". It is an exclusive for mug club members at the moment, but they will surely open it up for everyone's enjoyment soon.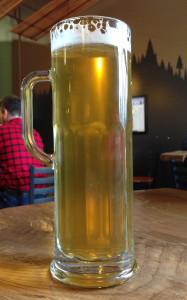 Day Hike is a bright, golden-yellow beer that is slightly cloudy and pours with a thin but substantial head. At 3.9% ABV, it has been given the "Session" label by the folks at Two Beers. No argument about that here, as I found its crisp and light hop taste to hit my palate just right. Better still, it maintained some "bite" throughout: Slightly hoppy up front to go down easy, followed by a mild finish that reminds you that you just drank something. I often find that session beers end up so light that they effectively "disappear" after being swallowed, so the aftertaste from Day Hike was a pleasant surprise.
I wish I could describe this brew better than this, but it really did taste like "more". After two mugs, I found myself wishing I could stay for a third one. Lucky for me, I have an awesome wife who is very supportive. The third mug was just as delicious as the first two.
Janette's View: Tasting notes say "Smells so good!"
I thought the Day Hike was well named. It seemed to me to be a light, crisp beer, perfect for after a day in the sun. Two Beers said they are going to be offering cans of it soon, great to tuck into your backpack and enjoy in the outdoors.