On our recent trip to Portland, Oregon, we looked up local breweries and picked a few to visit. Luckily, Base Camp Brewing Company was one of them.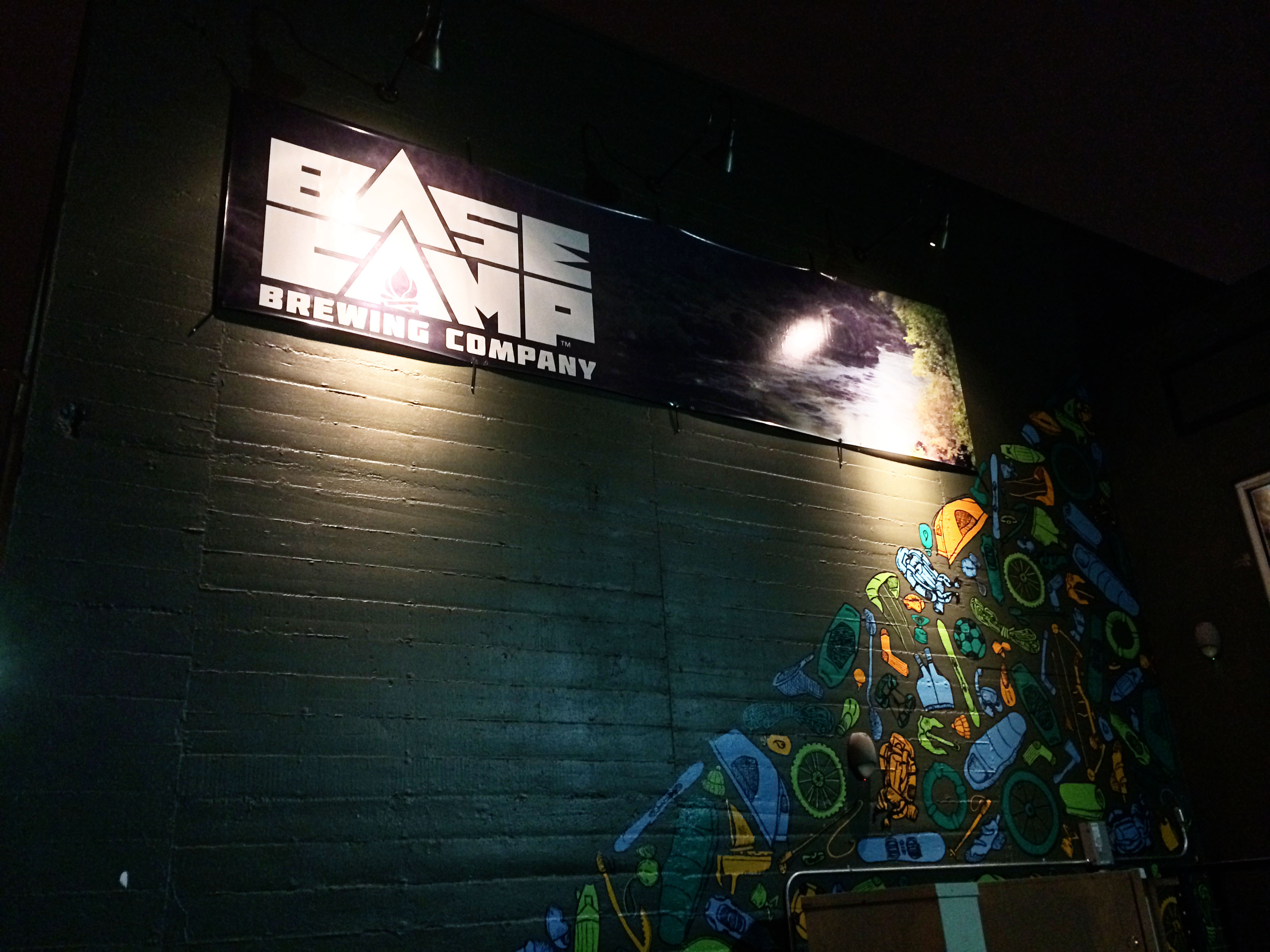 We took a cab to southeast Portland and pulled up to the tap room. We stepped inside and felt like we were transported to a base camp up on a mountain (albeit one with lots of delicious beers!) It was evening, and the ceiling was lit up with stars in constellations – very cool. Hanging lanterns added to the base camp feel. Rustic tables filled the room. Behind the bar was a wall full of outdoor action shot photos framed in squares. The tap handles were the aluminum cans they bottle their beers in for sale. Sweet!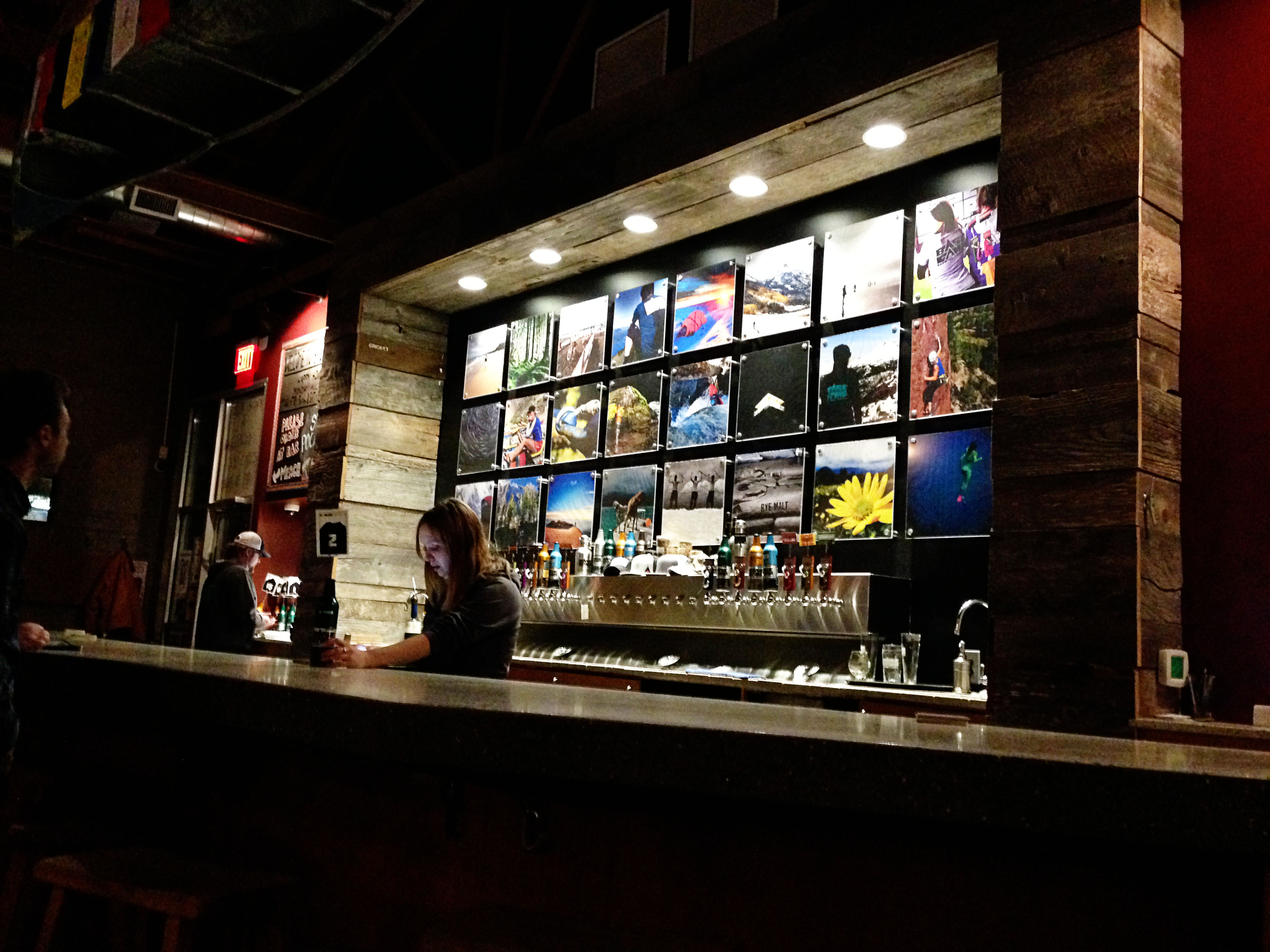 We tried a flight of 10 of their beers, and ordered food from one of their partner food trucks. You can order the food at the bar, and it all comes right to your table.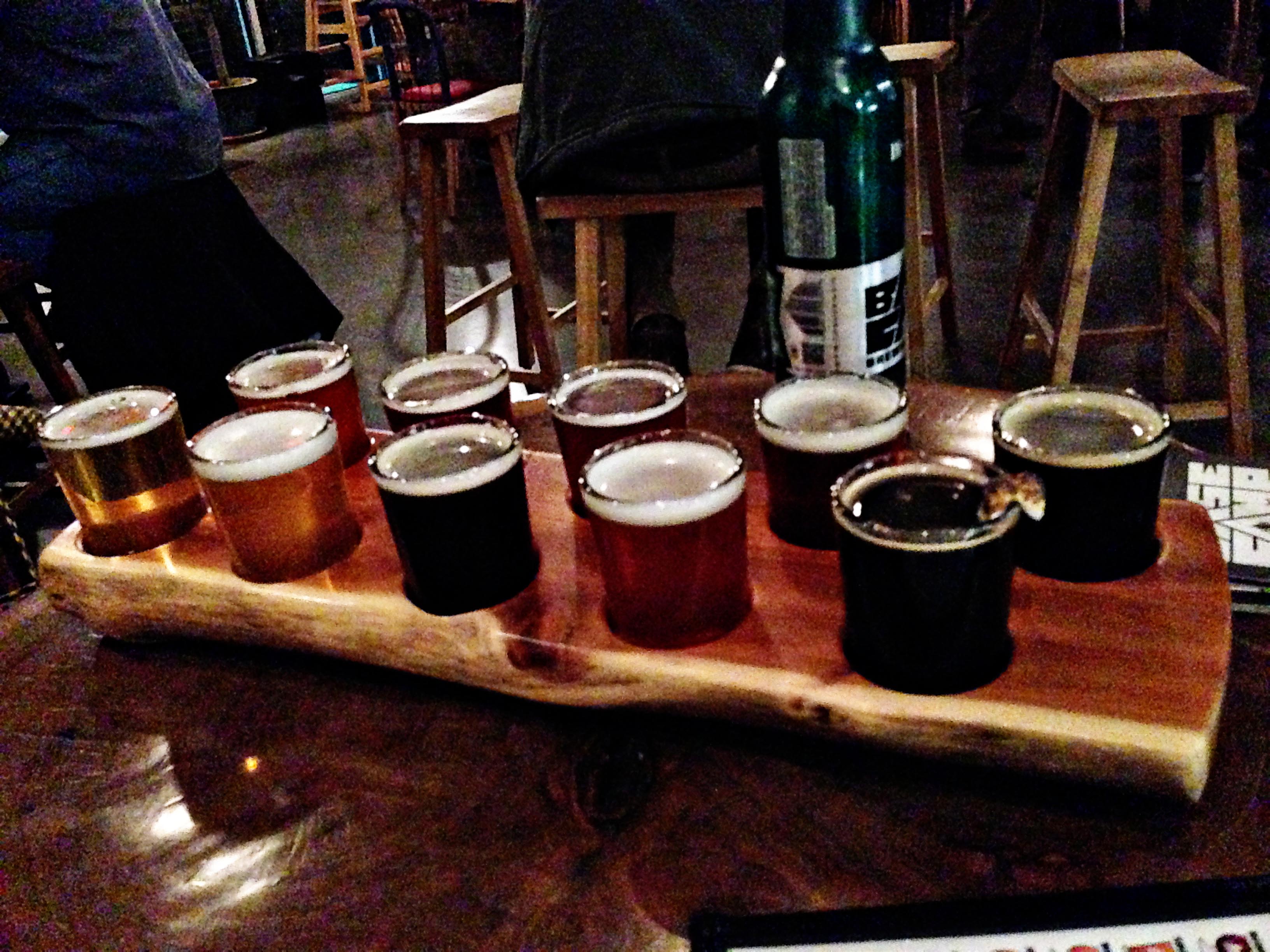 The flight included:
Alpenglow Session Ale – a Golden Ale
Northwest Fest – an Oktoberfest/Marzen
Ripstop Rye Pils – a Pilsner
Control Alt Delete – an Altbier
Celestial Meridian – an American Adjnct Lager
White Squall – a Wheat Wine
Smoke On the Weissbier – a Smoked Beer
In-Tents IPL – a Pale Lager
S'more Stout – served complete with a toasted marshmallow
The Incredible Baltor – a Baltic Porter
All were good, solid, drinkable beers. The one that made most of an impression on me was the S'more Stout. Drinking this with the marshmallow was a sweet, smoky experience. I'm not a fan of Rye beers, so that was lowest on my list, but it was still a well made beer. The Incredible Baltor was heavy on the coffee taste and quite good.
We tried the beer flight, then had a plate from Gonzo Falafel and Hummus, one of their food truck partners. Yum! Very spicy. They also have Pizza Box as a partner, if you'd like something a little more traditional.
Overall, I was very glad we stopped in. It was a great space, fun, very welcoming, with good beers. The staff was knowledgeable and friendly.
Ray's View: Some places have beer that is good, but their presentation is lacking. I prefer that to places that have great presentation and so-so beer, but I really like places that excel at both. Base Camp is one such place. When you first walk in the door, however, you are faced with a decision about whether to turn left or turn right. To the left is their brewing and filling operation, and on the night we were there it appeared to have a whole bunch of kegs and a picnic table set up in the middle of it. "Not exactly the most inviting place I've seen", I thought, but then Janette correctly directed us to the right. The right was much better. Enough about the place…on to the beer!
I wholeheartedly agree with Janette that they had a solid and tasty selection of beers. A flight of ten is quite large, and we didn't even sample everything they had on tap. Of the group we had, I enjoyed "The Incredible Baltor", their Baltic Porter, the most. I don't drink coffee, but I do enjoy the taste and smell of coffee in Porters. This beer tasted like what I imagine Starbucks might put out if they dabbled in the fermentation arts. I had never had a Baltic Porter before, and I am sure I will one day determine if this brew was typical of this style, but either way this was a very positive experience for me with a new style.
Spending some time at Base Camp was the perfect way to unwind after a long day of work in a strange city. And by "strange" I mean "unfamiliar". Portland is not strange. Portland is weird.