We picked up a bottle of the Rejewvenator, a Belgian Style Dubble Ale, at a local grocery outlet. We weren't expecting much due to the purchasing location and low price, but Ray was enamored by the bottle.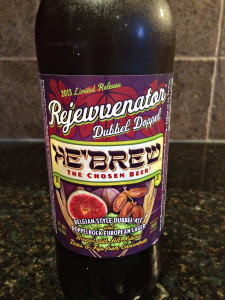 It has a malty aroma, and is a deep golden brown. It's a dopple (double) bock at 8% ABV. It had a malty, pruney, almost salty taste. I really liked it, but I do like Belgian ales.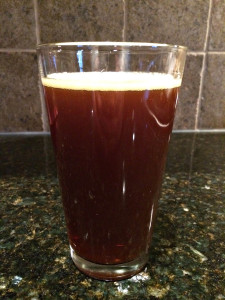 I can see enjoying this brew at Oktoberfest in the beer tents sitting at a picnic table, listening to the brass bands playing. (Or, of course, drinking a glass of this while watching "The Simpsons"…either/or.)
Ray's Views: I've never been a big fan of Belgian beers, so even though I was intrigued by this one, my expectations were not high. This was one of those beers that smelled great, but just did not smell like something I wanted to drink.
Reluctantly, I took my first sip. It wasn't "bad", but I was struck by how strong it tasted. Malty, sweet…figgy? I'm not sure what I was tasting, but it was not appealing to me at all. Again, it clearly is not a badly-made beer; it just is not a style I enjoy.
Janette and I usually have similar tastes, but this was one of those beers that was very polarizing for us. Eh, better luck next time, right?